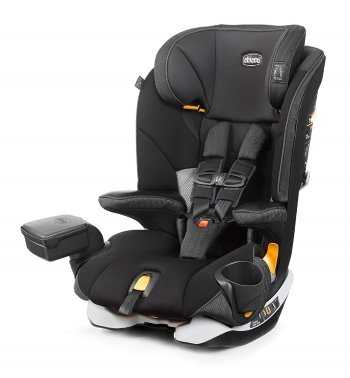 The Chicco MyFit LE Harness + Booster Car Seat is one of the strongest members to the Chicco convertible car seat family. LE stands for Limited Edition, though as of this review it's not very limited and easy to find in the store.
It's sister seat, the MyFit, is a slightly less expensive version. Both are very similar in size and functionality. The LE adds a few nice features including SuperCinch LATCH, comfort waist belt pads, a kid console, and air mesh panels in the fabric. There's also an upgrade above the LE called the MyFit Zip Air. That one has all the LE features, plus extra zip-off cushions and a breathable mesh backrest. It's pretty expensive at about $50 more than the MyFit LE and $100 above the MyFit.
The MyFit seats all start life as a harnessed forward-facing seat then convert to a belt-positioning booster. They could serve as a good transitional seat for when your child graduates from a dedicated rear-facing infant car seat. But, for about $50 more than MyFit, are those extra features on the MyFit LE worth it for your big kid?
Key Features of the Chicco MyFit LE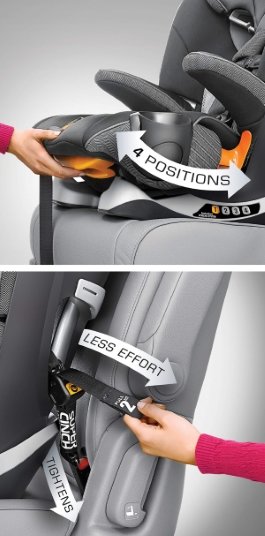 Comes in 2 colors: anthem (black) and starlet (purple/black)
4-position recline
9-position headrest
Seat belt lockoffs
Push-on LATCH connectors
SuperCinch force-multiplying system on LATCH (exclusive to MyFit LE)
Bubble level for accurate positioning
Steel frame
Storage compartments for LATCH and tether straps
Deep seat for better leg comfort in bigger kids
2 removable, dishwasher-safe, foldable cup holders
Kid console
Chest clip comfort pads
Comfort flex pads for hip straps
Premium fabrics with mesh panels and leatherette armrest covers
Machine washable seat cover (hang to dry)
LATCH can be used in booster mode
8-year expiration
A few things to note:
The chest clip comfort pads are required to be used at all times. There are also optional harness strap and buckle covers. The harness mode is FAA approved for airplane travel, but not the booster mode. The Kid Console is a storage pod that inserts into the cup holder. There is no backless booster mode.
What are the child size limits for the Chicco MyFit LE?
| Mode | Minimum age | Weight range | Height range |
| --- | --- | --- | --- |
| Harness mode | 2 years | 25 – 65 pounds | 54 inches or less |
| Booster mode | 4 years | 40 – 100 pounds | 37 – 57 inches |
The LATCH can only be used until the child is 40 pounds. Then you must use a seat belt installation. Positioning of the seat belt in booster mode will vary from vehicle to vehicle and also depends on seating position. There are upper and lower seat belt guides on the MyFit seats. In the lower seat belt guides, the vehicle belts can get a little stuck between the seat and guide. They seem to move better in the upper guides.
How big is the Chicco MyFit LE and will it fit in my vehicle?
This is a narrow profile seat that would be good for a 3-across car seat configuration. The cup holders (or "cup folders") are collapsible so just fold them in if you need a couple more inches of space.
The bubble level, which is unusual in forward-facing seats, helps you know which recline positions will work best in your particular car. You have a wider range of leveling angles available in harness mode than booster mode.
There should be no gaps between the vehicle seat and car seat. Some cars may have headrests that push the car seat forward. In that case, you'll need to raise or remove the headrest if possible. If not, you'll have to try another seating position or not use the seat at all.
How safe is the Chicco MyFit LE?
There aren't a lot of customer testimonials yet since these seats are still relatively new. But we did find a parent who is on their 2nd MyFit after a crash that totaled their truck. Their 4-year-old son was in an LE and was completely unhurt. Another family had a side impact accident with the MyFit, in which the child was unhurt.
The MyFit was rated a Best Booster by the IIHS. In our opinion, the ease of installation helps make this a really safe seat. The more complicated installation is, the more room there is for mistakes. Plus the DuoGuard side impact protection and the steel frame provides a sturdy bubble of protection around your child.
How easy is the Chicco MyFit LE to install and use?
For LATCH installation, the SuperCinch system on the LE makes installation much easier. You won't have to apply a ton of weight in the seat just to get it tightly secured. Parents have noted that the harness seems easier to tighten and loosen on the MyFit seats due to being housed in the solid panel on the back of the car seat. In some car seats, it's open back there, which tends to allow the harness straps to get wedged between the vehicle seat back and car seat, which can make them a pain to adjust.
A couple things to note: You cannot borrow LATCH connectors from the outboard seating positions to install the seat in the center. Also, these seats cannot be installed with inflatable seat belts found in some Ford vehicles.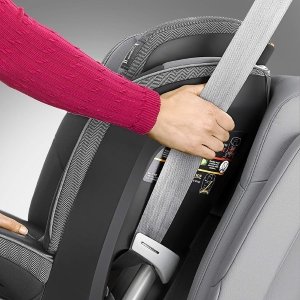 Helpful tip: For a tighter installation (in case the SuperCinch isn't working great), put the seat in the most reclined position. Install with either LATCH or seat belt and get it as tight as possible. Then adjust the seat to a more upright position. Just check to see that the bubble level is in range.
Another really nice thing is the onboard harness, tether and LATCH strap storage. You don't have to remove the harness when converting to booster mode, but it does take a few steps that some parents had difficulty with. Plus, the no-rethread harness with headrest adjustment is easy to use, though the "pull-tab" adjuster is a little trickier than the squeeze handles on other car seats.
Kids are usually able to buckle themselves in booster mode with no issues, but if you keep the seat belt threaded through the belt guide, it can really help. A few parents noted that the material around the crotch buckle can get in the way in harness mode, so be sure to supervise buckling when in harness mode.
Though several kids love the Kid Console thing, it can rattle and doesn't always stay in place very well. Toddlers can pull it out and throw it in the floorboard, rendering it useless. You certainly don't need it, so it might be best saved for older kids who can take care of it. It has a lid for storing snacks and small toys, etc. The headrest may rattle too, especially if you're not using LATCH and your kid's not in the seat.
The seat covers come off in several separate parts, which is good if you only need to clean one portion of the fabric. But it can be a pain removing some parts, especially the pads on the armrests. Keep your manual handy or take pictures so you know which part goes where when it's time to put it all back on. If you anticipate a lot of messy accidents, the MyFit Zip Air model is worth a look.
Optional accessories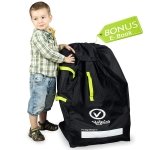 VolkGo Durable Car Seat Travel Bag
Makes it easy to check your car seat at the gate. With backpack straps and a carry handle, you can easily take your car seat with you and keep it clean. Made with water-resistant nylon. Dimensions: 34" x 18" x 18".

No-rethread harness
Onboard harness, LATCH and tether storage
8-year expiration
SuperCinch LATCH system
Breathable mesh fabric
Steel frame
4 recline positions
Bubble level
9 headrest positions
Dishwasher-safe cup holders and kid console
Seat belt lockoff

Seat cover in several parts
Kid console won't stay in place well
Headrest may rattle when child's not in the seat
Material around crotch buckle can get in the way
Can be challenging to convert to booster mode
Vehicle belts may stick somewhat in the lower seat belt guides
No backless booster mode
Final thoughts
There's a lot to like about this harness to booster seat. Chicco is a quality brand known for safe car seats, and this one's no exception. Plenty of safety features combined with little extras like the kid console make this a good transition seat once your child grows out of the rear-facing seat.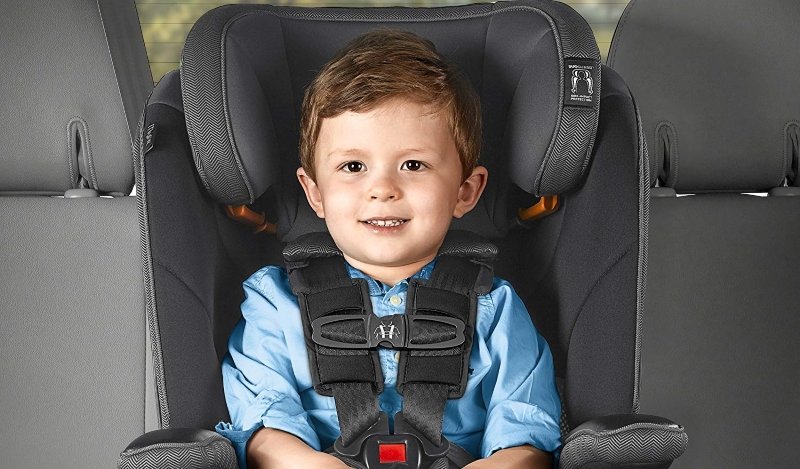 While it's not cheap, it's not that expensive either. With an 8-year expiration and wide range of size limits, you'll get a lot of use from this seat. It should fit in most vehicles and is a good option for 3-across configurations because of its narrow profile.
It would be nice if it also included a backless option, since a lot of bigger kids may scoff at the high back. But other than that, this seat would be a great choice for most families.