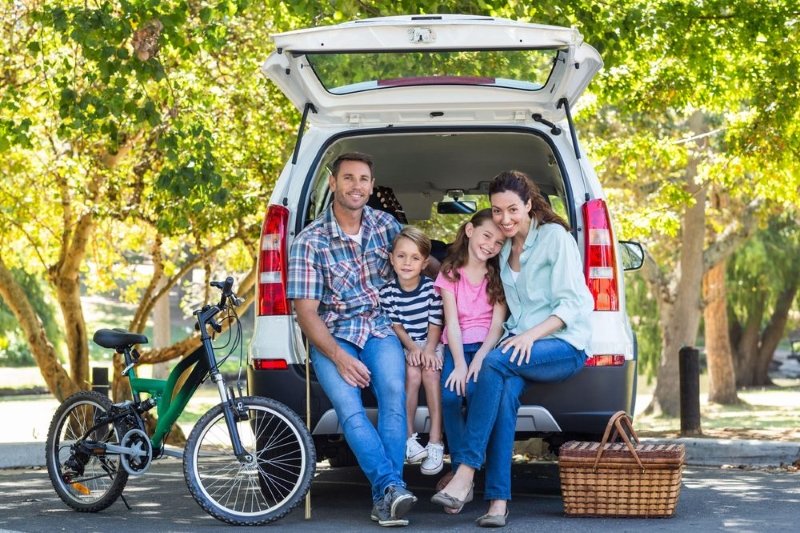 When you're single, sometimes your tastes in car buying are as simple as, "Does it get me from point A to point B?" or "I love the color." Add a spouse and a new baby, or babies, and maybe even a dog or two, and your car buying criteria just got a little more complicated.
There isn't any one perfect car for all families. Luckily, there are many to choose from. We're not stuck with the old family station wagon anymore. Those choices can be a double-edged sword, however.
There are tons of features on today's vehicles that will fit pretty much any lifestyle. Sorting through them to find a car that fits your growing family and budget is a lot of work. We'll help you narrow it down in this car buying guide.
How big is your family?
That seems like the obvious place to start. If you're a single parent, for instance, you may not have anyone riding in the front passenger seat most of the time. In that case, you could fit a rear-facing car seat into a compact car without worrying about legroom up front.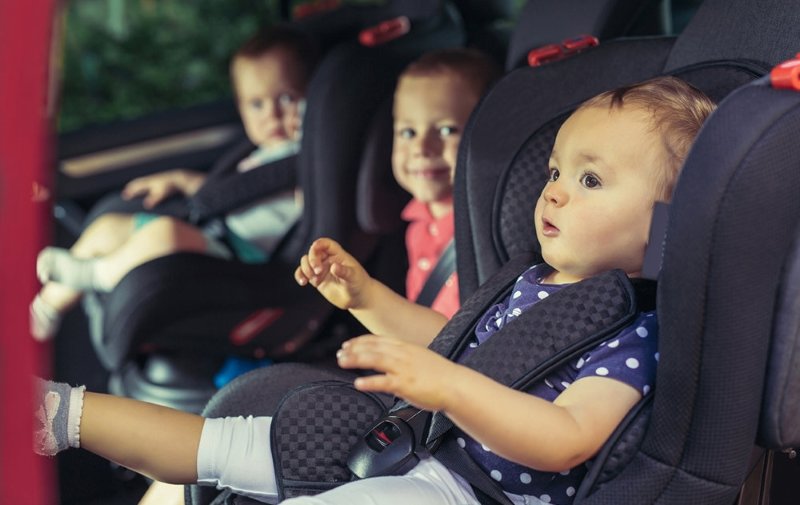 Families of three or more, however, need to put more thought into space issues. First, there's seating capacity.
It seems simple at first, but think about potential passengers. Do you plan on having more than one child? If so, you may need a car that will fit two or even three car seats across the back seat. A compact car won't cut it for 3-across most of the time. You may need car seats with narrow profiles. You may need to mix and match brands to make them fit.
The best way to see if car seats will fit is to try them in person. Many retail stores will allow you to do that. See if you can install them easily in the positions that you'll be using.
Are you or your spouse tall? You'll need plenty of legroom up front, so a vehicle that can accommodate the front to back depth of rear-facing car seats is imperative. If you have a dog or other pet that rides with you, even occasionally, you'll need room for them. Will you be transporting your kids' friends or teammates or nieces and nephews? You'll need room for them too.
What about activities? Even if you only have one baby at the moment, do you anticipate him or her playing sports? You'll need room for sporting equipment too.
Other things to consider capacity-wise:
Headrests – you will need these for all backless booster seats and most high-back boosters. They should be adjustable to fit people (and kids) of different heights. For fixed headrests, car seats with V-shaped tethers that go around the headrest work best.
Reconfigurable seats – Many vehicles such as SUVs and minivans have reconfigurable seating in the 2nd row that can be slid forward and back or side to side. These can come in really handy when you're always switching up passengers of different ages and sizes.
Second-row storage – Some minivans have second-row seats that can fold down into the floor to provide extra storage for large items. Great for families who frequently move or travel or haul big sports or band equipment around.
Expert tip: Proper measuring is key to finding car seats that won't sacrifice front seat legroom. Have your front seat passengers get in the car and adjust the seats to their safe, comfortable position. Then measure the space between the vehicle seat back in the second row and the back of the front seat. This will give you a starting point for knowing how big you can go with a rear-facing car seat.
What's your climate and lifestyle?

Where and how you live can further narrow down your choices.
For cold climates and areas that get more than just a skiff of snow in the winter, a 4-wheel drive vehicle can make your life a lot easier. Many SUVs, extended cab trucks, and crossovers have this option, and a few sedans and minivans do as well.
However, ground clearance is better with an SUV or truck for deep snow. Basically, the further north you live, the more an SUV or truck makes sense.
Extras such as heated seats and steering wheels can make winter travel more bearable too. Integrated defrosters for the front and back glass can save you from having to scrape ice if you don't have a garage in which to park.
For hot climates, it's all about the AC. Ideally, there should be AC controls for every row of seats. You should check it before you buy to make sure it works. Also think about how much time and money it would cost to keep it maintained and filled with freon.
Extras like automatic climate control can save energy so you're not running the AC full blast when it's not needed.
Now consider lifestyle. Are you a family who loves outdoor activities and sports? Roof rails will allow you to haul around bikes, kayaks, skis, camping gear and extra luggage. Are you into boating or 4-wheeling? You'll need a good trailer hitch AND vehicle that is strong enough to pull whatever you need to tow.
Another thing to consider lifestyle-wise is ground clearance. If you'll be constantly loading and unloading kids, gear, groceries and other items, a high-clearance SUV or truck will make that more difficult than a low-clearance minivan or sedan. Especially for shorter people.
And what about pets?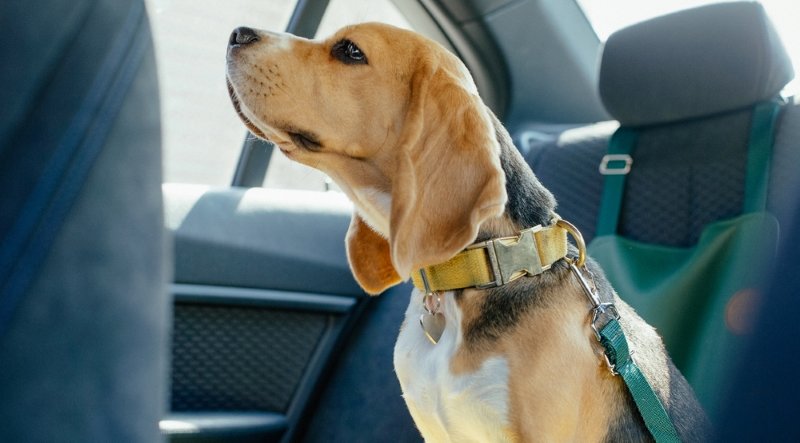 If you have dogs, especially large dogs, you may want to think about sturdy and easy-to-clean car upholstery. Vinyl and leather seats are easily scratched. Cloth seats will tolerate pet nails but will require more vacuuming. Dark seats will better hide stains.
Also, if your pets are elderly or handicapped, a high-clearance car will be difficult for them to get in and out of. You'll need a ramp if you're not able to pick them up.
What about gas mileage?
The general rule is, the heavier the vehicle, the more gas it will use. A small 4-cylinder sedan will use less gas than a 6 or 8-cylinder crossover, but it will have less power.
If you live in the midwest, where there isn't a hill in sight for miles, that won't be an issue. But if you live in mountainous or hilly regions or do a lot of long interstate travel, you want a vehicle with more power.
What about hybrid and electric, you might ask? Most are either compact or sedan-size, so seating capacity is limited. And while the technology is getting better, for now, the gas savings won't offset the upfront cost. So really, the electric vs. gas decision is more of a personal one for your family at this time.
Which safety features are a must-have?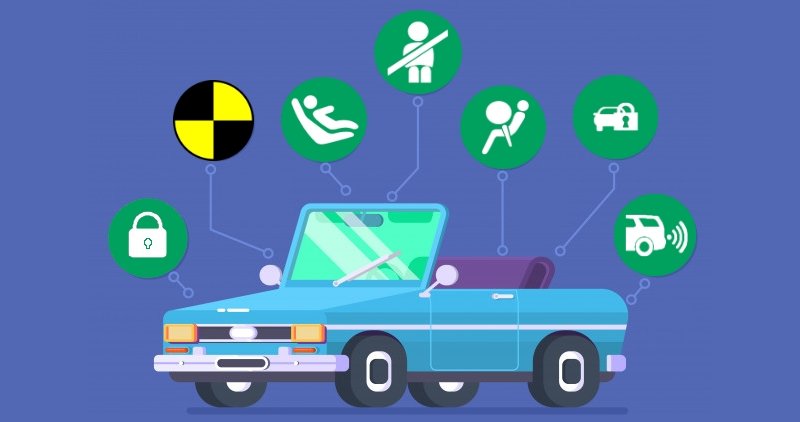 We'll list these from what we think are most to least important. But these may vary depending on your family situation.
Crash test performance – Check the National Highway Traffic Safety Administration (NHTSA) and the Insurance Institute for Highway Safety (IIHS) for data on all types of vehicle crash tests. The IIHS analyzes both crashworthiness and crash avoidance data.
LATCH system – all cars manufactured after 2002 are required to have Lower Anchors and Tethers for Children, otherwise known as LATCH. Plus, these anchors should be EASY to reach, meaning you don't have to fish around deep in the seat cracks to find those lower anchors. In today's cars, not every seating position will have both lower and top anchors. Make sure you have enough LATCH-equipped seats to accommodate the number of child safety seats you'll need.
Seat belt buckles within easy reach – These (the part with the red button) should be adequately spaced and NOT prone to sinking down between the seats. Flexible buckles are better than rigid so you can move them around when rearranging car seats.
Air bags – There are actually several types in today's cars. The most important are front and side. Side-curtain airbags reduce the risk of head injuries, which is more important when you have kids that are in backless boosters or out of car seats altogether. Some cars also have rear-center and rear-window airbags. Some even have seatbelt airbags.
Child safety locks/automatic door locks – These keep kids from accidentally opening the doors while you're driving, which is a risk with toddlers or kids with behavioral disorders who don't understand the danger. Read your car owner's manual to learn how to engage them.
Back-up cameras – Cars with poor rear visibility need these, especially minivans and SUVs! All cars sold in the US are now required to have them, but they may be missing in older vehicles. You can buy retrofit backup camera kits for older vehicles.
Well-shaped back seats – For child safety seats, the flatter the vehicle seat back and bottom, the better. Bucket seats won't work for the majority of safety seats. Seat bottoms with a steep slope make it difficult to install a rear-facing safety seat at the correct angle. And seat backs or headrests that protrude outward prohibit the proper fit of a forward-facing or high back booster seat.
Let's talk a moment about rear seat reminder technology. As of mid-2019, there have been a few bills introduced to Congress advocating for carmakers to integrate rear seat reminder technology in all new cars. None have passed yet. However, we feel, as do many child safety advocates, that this technology should be mandatory for all new vehicles.
Why? In 2018, 52 children died from being left alone in hot cars. That number has been consistent for too many years, as parents are busier and more distracted than ever before. It's time for carmakers to keep up with our modern lifestyle, as uncomfortable as the truth may be. Education isn't enough.
Luckily, there are some manufacturers who have implemented this technology. GM led the way in 2017 with the Acadia mid-size SUV. While it doesn't detect a rear-seat passenger or car seat, the sensor is activated when the rear door has been opened and closed up to 10 minutes before the vehicle is started or while it's running. As soon as the ignition is turned off, audible chimes sound along with a message on the dashboard that reminds parents to look in the rear seat.
Now, GM has implemented that alarm system in several 2017 – 2019 models. Plus, other manufacturers such as Nissan are stepping up to the plate to make rear seat reminders a standard option on all 4-door vehicles.
We believe this will soon be a mandatory feature in all vehicles, but until then, we highly recommend that you consider cars with this technology. Here are a just a few GM 2019 models with rear seat reminders:
2019 Buick Enclave
2019 Chevrolet Equinox
2019 Chevrolet Traverse
2019 Buick Envision
2019 GMC Yukon
2019 GMC Sierra
2019 GMC Terrain
2019 GMC Acadia
Which options are worth paying extra for?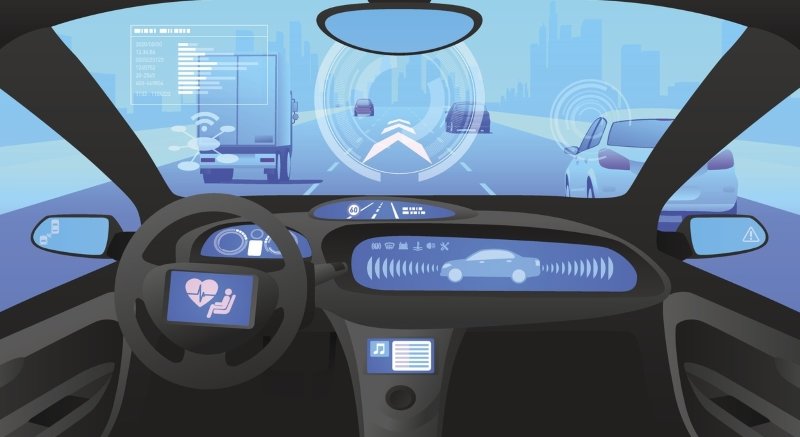 There are tons of other options that are great safety features, but a vehicle with all of these options could be beyond your price range. Decide which features would be most fitting for your family and which you would be comfortable doing without.
Forward collision warning/automatic braking – This is an enormously useful safety feature, particularly for those in danger of distracted or sleepy driving. Even if you're wide awake with both hands on the wheel and eyes on the road, this feature can respond faster than your normal human reflexes if it detects an imminent crash.
Blind spot warning – Some vehicles have notoriously bad blind spots. This sensor detects what you can't see in the lane beside you. It will flash a light on your side mirror and may also have an audible warning.
Anti-pinch for doors and windows – If you've ever had your hand or finger shut in a car door or window, you know how painful it can be. When you have more than one child, this is even more likely to happen. This technology shuts off the motor that closes doors, windows, failgates, seats, and sunroofs when it detects an obstacle and reverses the direction.
Cover or net in cargo area – Keeps all items in the cargo area from flying forward if you stop suddenly or are in a collision.
Emergency calling/GPS/vehicle locator – This is usually a subscription-based option, but it varies from vehicle to vehicle. One of the best features is the automatic crash detector that alerts emergency services when a driver is unresponsive after airbags are deployed. This would be a good option if you do a lot of solo road travel. It's saved several drivers who have crashed where they couldn't be seen from the road and who were trapped and couldn't alert anyone on their own.
Park assist – If you must routinely parallel park or have bumped into one too many fenders, this might be an option worth considering.
Lane-keeping / lane-centering assist – Sensors that help alert distracted drivers when it detects the car drifting into another lane. It can also detect when your hands aren't on the wheel.
Adaptive cruise – If you have a tendency to follow too closely behind other vehicles, this option adjusts the cruise speed to maintain a safe distance between your car and the one in front of you.
The following comfort options are not necessarily must-haves, but can make your car rides a little more bearable, especially on long road trips with kids.
Lumbar support – Adjustable lumbar support ideally moves up and down and in or out to fit whoever's in the driver and passenger seats.
Auto seat positioning – It's kind of a set it and forget it option for power seats. Find your preferred position, then this feature will remember it for you and other drivers. Sometimes it will automatically adjust depending on whose key fob it detects. Operation varies from car to car, but it's worth having if you switch out drivers a lot.
Folding storage tray / cup holders – Works great when you have two kids in the back who are too big for car seats with cup holders. This is usually a console that folds down onto the center seat. Definitely a plus on long road trips to hold drinks and other items.
Onboard entertainment – a DVD player and screens for the rear passengers is nice but not as much of a luxury now with all the mobile devices that stream music and movies. But it could be a good distraction when your kids are too little for mobile devices and you're on a 16-hour drive to Florida.
What's your budget?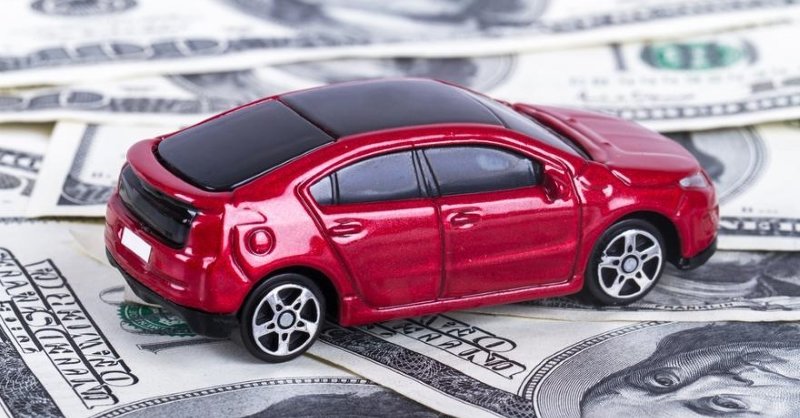 You may wonder why we saved this one for last when it seems like a very important consideration. But that's just the thing. It's best to figure out what you really want in a car and then shop around for those options within your price range. Today, you can find a wide range of prices in new and used vehicles, and all of them may have great options to choose from.
Just keep in mind that a new car will average $30,000 – $40,000. The more options you have usually means more money. There's also insurance, taxes, gas, and maintenance. If you or your spouse aren't gifted at do-it-yourself car repair, you'll need a good mechanic on call, and the more expensive the car, the more it'll cost to fix.
Don't even ask about owning versus leasing. When you have kids, they're going to trash the interior. It's best to find a reliable car that you can own until it just won't run anymore. If you're lucky, when your kid is old enough to drive, you can pass it on to them and get an upgrade for yourself. Teens really don't need a brand new car, especially since insurance is a lot higher for those beginning drivers.
Buying used? What to look out for.
There's nothing wrong with buying a used car. It's easy to find a gently used car that's a lot cheaper than a new one, but will run for ten years or more. What's most important is how old the car is. Older cars (pre-2000's) may be missing shoulder belts in the back seat. Lap AND shoulder belts are a must-have.
LATCH systems weren't mandatory in all cars before September of 2002. If you have children in rear or forward-facing safety seats (not boosters), LATCH is a must-have.
Trunk release mechanisms are mandatory in all post-2002 vehicles. They should be illuminated so anyone trapped in the trunk can see the release lever. This safety measure has saved a lot of lives.
Brake shift mechanisms ensure the car cannot be taken out of park before the driver pushes down on the brake. This has prevented a lot of accidental rollover deaths, which often occurred in older vehicles when unattended kids or pets put the car into gear.
Final thoughts
Of course, we'd be remiss not to remind you that EVERYONE, including your pets, should be buckled up for every ride. Children ages 13 and under should always be in the back seat. And please, never, ever text and drive. When you're in the driver's seat, you have one job – driving. It can wait.