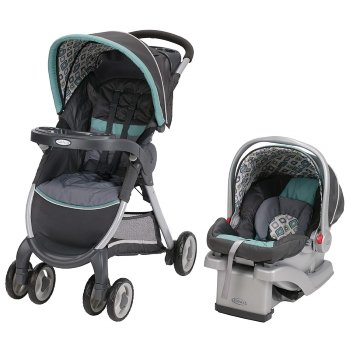 The Graco FastAction Fold travel system is one of many options in Graco's impressive line of stroller and car seat combos. It's a classic 4-wheel stroller that comes with a SnugRide 30 LX infant car seat. Just for comparison, we rated the alternative SnugRide 35 as #2 on our list of top infant car seats.
This system has several good features that make it very popular among parents. For one, it's affordable. Also, it's simple to use, stylish, and has plenty of features to make any outing more comfortable.
Still, it might not be the best choice for every family. Let's take a look at some of the details so you can decide if it's right for you.
Key Features of the Graco FastAction Fold travel system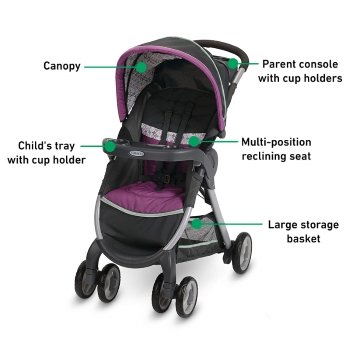 Offered in 3 fashionable colors
1-second, 1-hand fold
ClickConnect for easy car seat & stroller attachment
Multi-position recline
Locking front swivel wheels
Extra large storage basket
Parent tray with 2 cup holders and storage bin
Pivoting child's tray with cup holder
Canopy with peekaboo window
Stroller converts from 5 to 3-point harness
Machine washable seat cushion (hang to dry)
System meets Disney size requirements
7-year expiration from date of manufacture
1-year manufacturer's warranty
What are the child size limits of the Graco FastAction Fold travel system?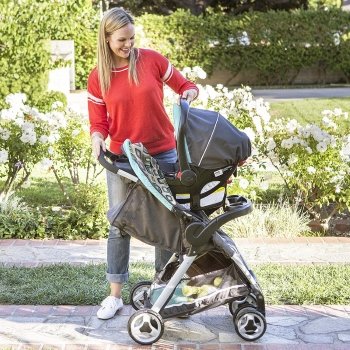 ClickConnect 30 infant car seat: 4 – 30 pounds and up to 32" in height
Stroller: For children up to 50 pounds.
Nowadays, 30 pounds isn't considered a high maximum weight for a rear-facing car seat. Since the AAP recommends kids ride rear-facing until at least 2 years old and as long as possible past that, 30 pounds won't allow for much extended rear-facing.
Some kids who are high on the growth chart have outgrown the height maximum of the seat before the weight. While the system as is will get you through most of the infant stage, you may want to plan on purchasing a convertible car seat with a high max weight sooner than later so it will be available when your child has that inevitable growth spurt. Note: Convertible car seats won't fit on strollers.
This stroller is compatible with any Graco SnugRide ClickConnect infant car seat. So, one option is to purchase this system, along with a Graco SnugRide Click Connect 35. Then, you'll have an extra seat that will also allow for longer rear-facing riding.
How big is the Graco FastAction Fold travel system & will it fit in your car?
Unfolded stroller dimensions: 27.5" L x 22" W x 41" H
Folded stroller dimensions: 28.5" L x 22.5" W x 18.5" H
Car seat dimensions: 26.7" L x 17.5 W x 14" H
Stroller weight: 21.3 pounds
Car seat weight (w/o base): 7 pounds
Car seat weight (w/ base): 10.76 pounds
With so many families venturing to Disney World or Disneyland, many may not realize that the park has a size requirement for strollers (no larger than 31" wide & 52" long). If you arrive with one that is too big, you will be forced to carry your child or rent a stroller from Guest Relations.
If you know you will be vacationing at Disney while your child is a baby or toddler, it would be wise to find a system that fits those size parameters. The Graco FastAction Fold would work well in that situation, while providing plenty of storage room for all your drinks, snacks, diaper bags, and souvenirs.
Many parents do love how lightweight this stroller is. At just over 21 pounds, it's not difficult to lift in and out of the car for most people. It may be a bit bulky for the trunk in very small cars. It's also too big for a carry on item when flying. You'll have to check it.
The car seat fits in most vehicles but hasn't been tested in all types of vehicles. We always recommend measuring your back seat dimensions and comparing them with the car seat first before buying.
Alternative model: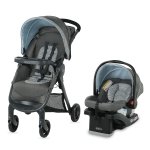 Graco FastAction SE
The Graco FastAction SE has a 25% smaller fold than the original to provide more compact storage for parents with smaller vehicles or closet space. It comes with the Graco SnugRide 30 LX infant car seat.
How safe is the Graco FastAction Fold travel system?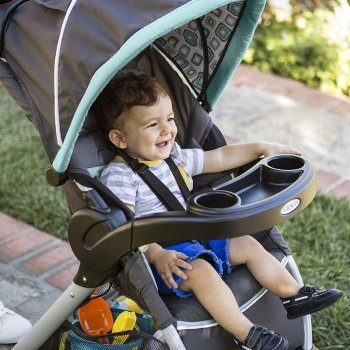 This seat, like all Graco seats, are crash tested to meet or exceed all federal safety standards. The ClickConnect system provides easy fit into the base with an audible click. Be sure, however, to pull up on the seat to make sure it's firmly attached, even when you hear the click.
The car seat body is surrounded by EPS energy absorbing foam for better side-impact protection. The base is LATCH equipped, but with the older hook attachments rather than the push-on connectors. They work fine, but can be a booger to uninstall in some cars with lower anchors that are deep within the seat crack.
We were happy to learn that at least two customers reported being in accidents with their children in this car seat, one as recent as June 2019, and both times, the children were just fine.
NOTE: As of now, there is only one old recall on this seat, for seats manufactured between July 2010 and May 2013 in which the harness buckle can become stuck. You shouldn't have this old of a seat if buying new, but be sure to check for the manufacture date which should be printed on a sticker on the car seat itself. Graco will send replacement buckles if needed.
As for the stroller itself, the biggest gripe involved the wheels. You have to put them on with cotter pins during assembly, so you'll need pliers. This could increase the chance of user errors, which could explain some of the wheel complaints.
Some customers felt the wheels were too flimsy. Others didn't like the hardness of the wheels and felt it made the ride too bumpy for their babies. A few customers reported wheels falling off. Some said the stroller was difficult to push when their child passed 35 pounds. Other issues involved missing clips needed to attach the wheels or getting wheels of two different sizes.
How easy is the Graco FastAction Fold travel system to install and use?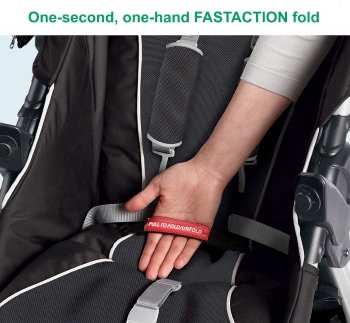 Overall, this system is your standard car seat and stroller. Straightforward, simple to use. The only hard part might be assembling the stroller, but if you have the right tools and patience, the directions are easy to follow.
Most parents had no issues unfolding and folding the stroller, though a few said it's a lot easier to fold than unfold. The car seat was also simple to install and use for most parents. Some weren't happy with the infant insert, however, saying it didn't offer enough support.
Others wished there was a bubble level on the car seat rather than a line indicator to help with proper installation angle. Also the carrier handle isn't padded and could get slick in the rain.
Parent tip: Practice unfolding and folding the stroller a few times, as well as attaching/unattaching the car seat, before you need to use it. Then you won't be trying to figure it out with a fussy baby in tow.
A few taller parents wished the handle was height-adjustable, but most said it was a good height. Though the stroller does recline at several angles, it doesn't lie completely flat like some strollers do, which may not be as comfortable for a sleeping toddler.
Some parents felt the storage basket was smaller than older versions of Graco strollers. Others commented that the car seat canopy is flimsy, doesn't fit the car seat well, and makes too much noise when pulling it up. A few said when combined with the stroller canopy, the two didn't close together very well.
Optional Accessories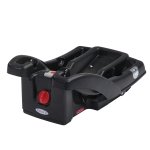 Graco SnugRide Click Connect 30/35 LX Infant Car Seat Base
It's always a good idea to have an extra base on hand for Dad or Grandma. This one includes a level indicator to help with proper installation. Fits all SnugRide Click Connect car seats.

Click Connect for easily attaching car seat to base and stroller
Comes in 3 color choices
1-second, 1-hand fold
Large storage basket
Pivoting child tray with cup holder
Parent tray with 2 cup holders
Multi-position recline
Machine washable covers
Meets Disney size requirements

Car seat has relatively low max weight
Tall kids' legs may drag in stroller
May be hard to push for kids over 35 pounds
Infant insert not well cushioned
No bubble level on car seat
No adjustable-height handle
Stroller doesn't recline completely
Canopies won't close together completely
BestCarSeatHub's Final Verdict
Overall, this is a your standard travel system. It's not perfect, but for the price, it will suit most families' needs. The "fast action" part of it will be great for families always on the go or who change cars often, as well as the Click Connect feature.
To follow the AAP recommendation of rear-facing for as long as possible past 2 years old, just keep in mind that you'll likely need to upgrade the car seat to something that lasts beyond 30 pounds.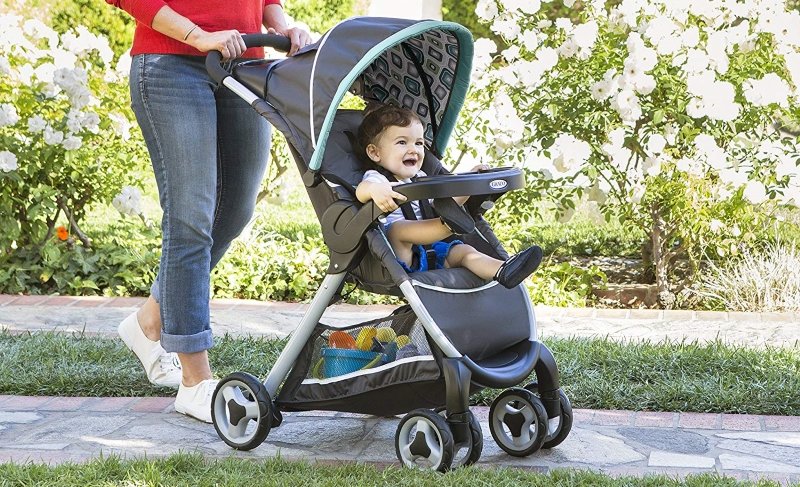 We wouldn't recommend the stroller for rough terrain or any off-road adventures since the wheels and suspension aren't really built for that. For your everyday walks through the neighborhood, mall, or zoo, it should fit your needs.
Those with kids high on the growth chart or who have a bigger budget and want more options with premium finishes should probably look elsewhere.