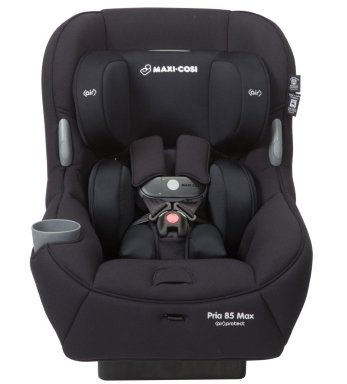 The Maxi Cosi Pria 85 Max is a 2-mode convertible car seat designed to last from newborn to booster age. In rear-facing, it holds infants 5 – 40 pounds and 22 – 85 pounds in forward-facing harness mode. Unlike all-in-one convertibles, there is no booster mode.
The Pria 85 Max is one of a few different versions of the Pria line that Maxi-Cosi has offered through the years. It's easy to get this one confused with the "non-Max" version, the Maxi-Cosi Pria 85, but that seat has a minimum weight of 14 pounds, so it is NOT for newborns. The Max has higher quality fabric that is more breathable, plus it has a magnetic ClipQuick chest buckle.
While the regular version would be a good upgrade from an infant car seat, the Max will serve you from the time you take your baby home until they're ready for a booster seat. Let's have a look at some of the features that make the Max stand out from the rest.
Key Features of the Maxi Cosi Pria 85 Max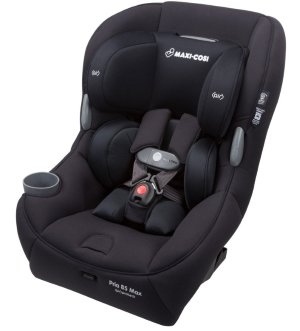 6 colors/patterns available – graphic flower, night black, nomad blue, nomad gray, nomad purple, & nomad sand
ClipQuik auto-magnetic chest clip
One of the highest weight limits for a harnessed forward-facing seat
Flip-away buckle and holders to keep straps out of the way
Easy on & off machine washable seat pad
AirProtect side impact protection
No-rethread harness
3 recline settings
3-position crotch strap
Integrated cup holder
Push-on LATCH connectors
Infant positioning wedge and body pillow
1-year manufacturer warranty
10-year expiration
Parents have found the cover to be one of the best things about this seat. Unlike many other car seat covers, the Pria 85 Max's cover can be dried in the dryer. It snaps off and back on easily with no need to remove the seat from the car.
Now the straps, on the other hand, are another matter. You cannot completely remove them for cleaning, according to Maxi-Cosi customer service. Some parents have tried and have been thoroughly frustrated. Just know going into it that you can't remove them, and be prepared for wiping them down with a damp, soapy cloth when they're dirty. Trying to remove them could render the seat unsafe!
The harness holders and flip away buckle also make it easy when toddlers are getting in and out of the car seat and insist on buckling themselves in. Also, parents have been very happy with the breathability of the seat fabric. Even in hot climates, their children haven't been overly sweaty as with other car seats.
What are the child size limits of the Maxi Cosi Pria 85 Max?
Rear-facing
Forward-facing
weight range
height range
weight range
height range
5 – 40 pounds
Up to 40 inches
22 – 85 pounds
29 – 52 inches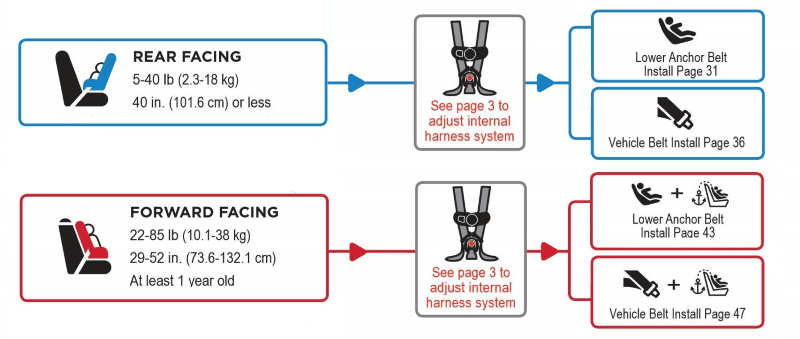 Children will likely outgrow the height limit forward-facing well before the weight limit. Plus, some may outgrow the top harness position before they even reach 52 inches. By that time, many children (by 8 years old) should be ready for a booster seat anyway, so you should get quite a bit of use from the forward-facing mode.
No matter the height or weight, when forward-facing, the child's ears must not go above the headrest. The harness should be at or above the shoulders. If they surpass these requirements, it's time for a new seat.
NOTE: The infant positioning wedge must be used for infants 5 – 11 pounds, but must be removed for kids over 15 pounds. The body pillow can be used as long as your child is comfortable with it, but should be removed for forward-facing mode.
How big is the Maxi Cosi Pria 85 Max and will it fit in your vehicle?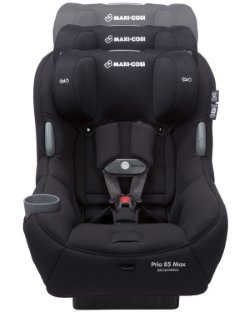 Seat weight: 17.5 pounds
Seat height: 26 inches max
Seat width: 20 inches
Crotch buckle slots: 3.5, 4.5 & 5.5 inches
Harness positions: 6.5, 9, and 17 inches
Seat pan: 13 inches wide
This seat takes up a lot of room front to back when rear-facing. Taller front seat passengers will lose legroom, especially in smaller vehicles if the seat is in the back middle or directly behind the passenger. It's also rather wide, which could make a 3-across installation difficult, if not impossible in compact vehicles.
How safe is the Maxi Cosi Pria 85 Max?
We like to hear real-life testimonials such as this one form a parent who was in a serious rear-end crash (70 mph tractor trailer) with her 3-year-old. The child was just fine. We found other good reports, as well, including a child who had been protected in TWO crashes with this seat.
On a downside, parents who had issues with the magnetic chest clip felt it would be unsafe. Other parents couldn't get the LATCH or harness straps tight enough, which is a common complaint and can be due to many factors, including car design and user error, etc. It's always a good idea to try one out in a retail store or to try a friend's car seat to see if it will work in your car before purchasing one online.
How easy is the Maxi Cosi Pria 85 Max to install and use?
Let's start by saying that parents have a love or hate relationship with the magnetic chest buckle. Some parents got used to it quickly and had no issues. Others fight with it every time. Sometimes particularly dextrous toddlers can unfasten it as well.
Other than that, installation hasn't been an issue for most parents. Thankfully, there are push-on LATCH connectors, which in themselves make things a lot easier. What throws some people off is that in seats manufactured before May 1, 2017, the lower anchor belt will be routed through the forward-facing path, so you'll need to re-route it to use rear-facing. Hopefully, you'll get one of the post-2017 models, which come with lower anchor straps routed and ready for a rear-facing installation.
The recline position cannot be adjusted while the seat is installed. There are some specific rules for reclining, so be sure to consult your manual. For rear-facing, the recline line must be level to the ground at all times. You'll need the seat to be in recline positions 2 or 3 for this.
In forward-facing, position 2 must be used for kids under 40 pounds and 43 inches. Position 1 must be used for kids over 40 pounds and 43 inches. If a child is straddling both these measurements, go by weight instead of height to determine the right recline.
The LATCH has a 40 pound lower anchor limit, which means in position 1, you'll use the seat belt to install.

Easy on/off cover
Machine washable and dryable cover
Push-on LATCH connectors
Integrated cup holder
Infant wedge + body pillow fits newborns well
Flip-away crotch buckle and harness holders
Moisture-wicking cool fabric
Proven crash protection

Fairly expensive
Straps can't be removed for cleaning
Straps may be hard to tighten
Magnetic chest clip can be tricky to use
Loss of front-passenger legroom in rear-facing mode
Confusing recline/child size rules
Kids tall for their age may outgrow it well before weight limit
Too wide for 3-across car seats in small vehicles
Final thoughts

Overall, the Maxi Cosi Pria 85 Max is a solid design with the biggest advantage being the easy on/off seat cover that's both machine washable and dryable. Beyond that, it's not THAT spectacular compared to similar or lower-priced seats.
If you're already a Maxi-Cosi fan, have a healthy budget, and have a large enough vehicle or don't need much front passenger legroom, this is a good option for you. Keep the manual on hand at all times to consult it for those tricky recline vs. size limit settings.
Also, try out a friend's seat or try one out in a retail store if possible so you'll know whether the seat will fit or if it will be a bear to install and use before purchasing.