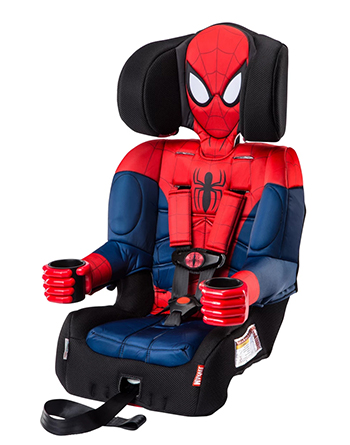 The KidsEmbrace 2-in-1 Harness Booster Car Seat is a totally fun and unique spin on the classic booster seat. These seats from KidsEmbrace heavily incorporate classic superhero characters like Spiderman for a safe car seat solution that will leave your child smiling.
Regular booster seats look boring in comparison to these superhero car seats. This might be the solution for parents who fight to get their children into a booster seat as kids get to ride along with their favorite heroes. KidsEmbrace has car seats available with Marvel, DC, Nickelodeon, and Disney characters.
Key Features
Spiderman, Batman, Hulk, Black Panther, Cinderella, Belle & more
5 point harness and 2-position crotch belt
3 position headrest with side-impact protection
2 integrated cup holders
Machine washable cushioned seat cover
1-year warranty
8-year expiration
What are the child size limits for the KidsEmbrace 2-in-1 Harness Booster Seat?

| | | |
| --- | --- | --- |
| | Harness mode | High back booster |
| Weight range | 22 – 65 pounds | 30 – 100 pounds |
| Height range | 29 – 49 inches | 38 – 57 inches |
Kids should be at least 3 years old before using this as a booster seat. The AAP and NHTSA recommend that children stay in a belt-positioning booster seat until they are 57 inches tall (4 feet, 9 inches) If your child is on the high end of the growth chart the 100 lbs weight limit might pose a problem.
This car seat transitions from a harness to a highback as your child grows. However, it does not transition into a backless booster seat mode making it best for younger children.
How big is this booster seat and will it fit in my car?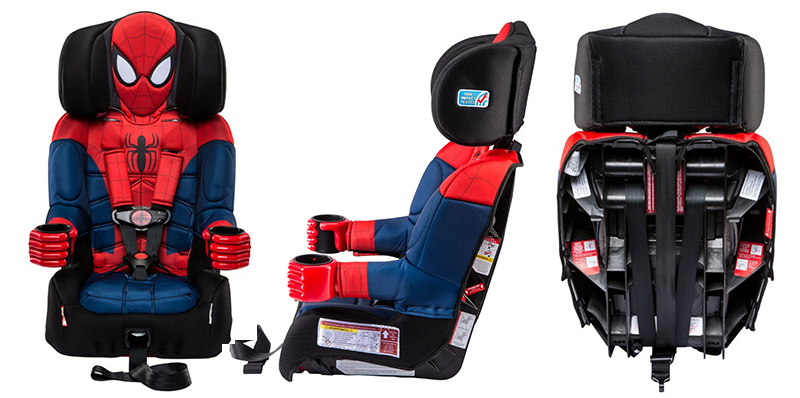 Widest point: 19.5 inches
Headrest width: 17 inches
Seating width: 9.5 inches
Seating depth: 13.5 inches
Seat weight: 17 pounds
Right away you will notice that the KidsEmbrace booster seat has unique dimensions. It has a thin, narrow seat bottom but wide armrests sitting on top of it. The seat feels light but added weight comes from the character designs draped on the head and armrests.
The character designs also make the car seat very cumbersome. With the characters and the double cup holders affixed to it, the booster takes up a lot of vehicle space. If you are working on 3-across seating for your vehicle then this brand might not be a good choice.
Parents have to remember that while it is a fully functioning car seat, it's also a bit of a novelty item. Bottom line – take good measurements of your interior before purchasing. After buying, keep your receipt and the box and everything else so you can make sure it fits before you commit to it.
Is the KidsEmbrace booster seat safe?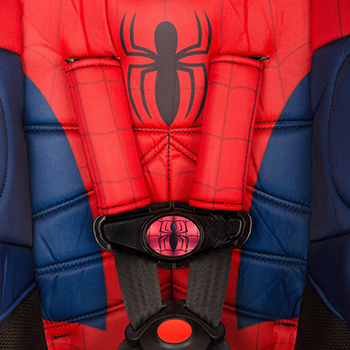 Yes, the booster seats are totally safe even though the focus is on the fun superhero design. KidsEmbrace booster seats meet/exceed all USA safety requirements and are currently rated as a "Best Bet Booster" by the IIHS. Kidsembrace works to put safety first with patented energy absorption technology integrated into all of their booster seats. The company also conducts side impact tests on their seats, which is optional federal testing and speaks to their commitment to safety.
Remember that although the booster seat boasts LATCH straps they are NOT a necessary safety feature for your child when used as a belt positioning booster. Since booster seats rely on your vehicle seat belt to keep them safe, LATCH hasn't been shown to make booster seats any safer.
Manufacturers still recommend you connect LATCH straps because they make rides safer for other passengers in the vehicle. That's because in the event of an accident the booster seat can become a dangerous projectile and endanger people in the car. Keeping the LATCH connected can also make it easier for your child to buckle the seat belt since the booster will be set out of the way.
Some parents complained that the LATCH anchors on this booster do not secure it as firmly to the vehicle as they expected. These parents are unsettled because the booster can shift around even when anchored in. It is important to remember that unlike a convertible car seat, the booster seat in belt positioning mode is secured by the occupant's seat belt and not the LATCH anchors. Rest assured that this booster has been thoroughly crash tested to meet and exceed federal crash test standards.
There are currently NO known recalls for this seat.
Is the KidsEmbrace 2-in-1 booster seat easy to use?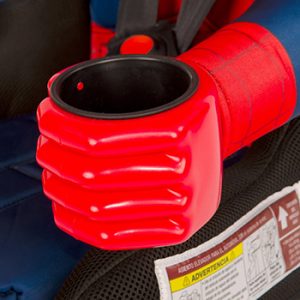 This booster seat is easy to install. Set it down in the backseat and hook in the LATCH straps. Tighten the LATCH straps by pulling on the strap at the front of the base. Secure your child in the booster seat and fasten them in using the seat belt.
In harness mode the installation is a bit trickier because you are looking for a tight fit on the LATCH lower anchors and top tether. This car seat uses the self-clip anchors instead of hook anchors but vehicles with anchors deep in their seats might still be challenging for parents. Place your knee into the seat of the booster and apply body weight while pulling on the strap to help fasten it in tight. Keep pushing down on the seat while tightening the strap.
One issue with installation is the cup holders. It can be great that they are so big to hold lots of kids stuff, but when moving the booster in and out of the car they are in the way. They cannot be adjusted or easily removed. Unfortunately this also means that the cup holders are difficult to clean.
Adjusting the headrest is easy, as is the conversion from harness to booster seat mode.
Note: This seat is LATCH equipped for use with lower anchors and top tether, but only for kids less than 45 pounds. The top tether should always be attached in harness mode even when no lower anchors are used.
BestCarSeatHub's Final Verdict

Amazing character designs
Affordable
Washable seat pad
Easily converts between modes
Large cup holders

Big and Cumbersome
Thin seat cushion
No harness or manual storage
Difficult to install tight in some vehicles
Armrests not adjustable and cupholders fixed
Final Thoughts
Kids and parents alike cannot help but smile when they see this booster in the back seat. Awesome character representations mold around the seat to make your child feel like superheroes are along for the ride. If you look quickly in your rear view mirror it can give you a surprise and feel like someone is riding along. These booster seats are fun and unforgettable.
The novelty on these does wear off for some parents who wish less had been spent on characters and more spent on tighter clasps and LATCH anchors. They are not the most comfortable car seats for children and are not a good option for road trips. The lack of cushion on the seat and the plastic character parts can irritate children on long drives. Some parts do not feel as sturdy as those of other manufacturers.
The seats are a bit heavy and wide but that is the cost of bringing a fun character along for the ride.