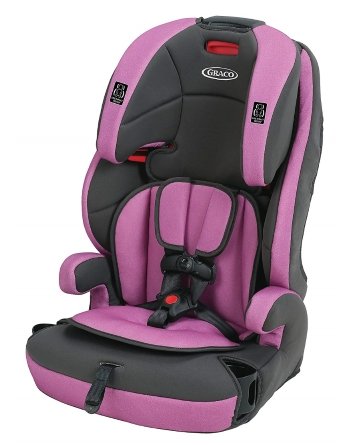 The Graco Tranzitions 3-in-1 Harness Booster Seat is an improvement over the older Nautilus, released back in 2007. The Tranzitions is a sleeker, narrower design that works better than the bulky Nautilus for placing multiple car seats in your vehicle.
It's lighter too, for families who often travel or switch car seats from vehicle to vehicle. We liked that it's also a nice-looking seat, which you don't always find in one so budget-friendly and practical.
Key Features
Simply Safe Adjust harness system – no re-thread harness and headrest adjust together
One-handed adjustable 8 position headrest
2 integrated cup holders
Open loop seat belt guides
Machine washable seat pad, body pillow, and harness covers
3 color choices
1-year warranty
7-year expiration
Child size limits for the Graco Tranzitions 3-in-1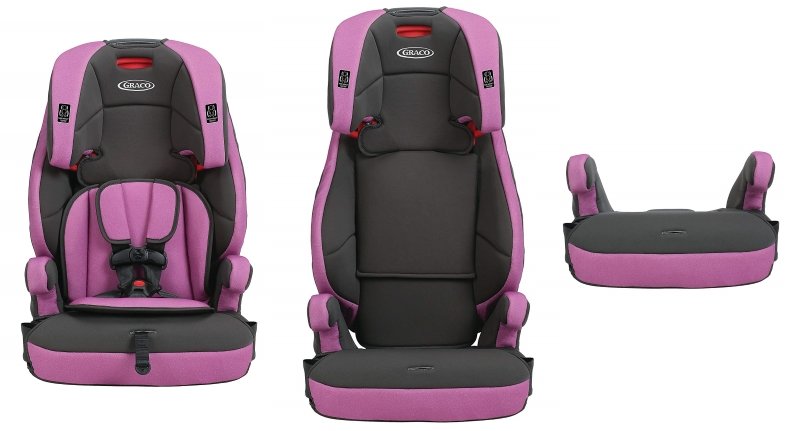 | | | | |
| --- | --- | --- | --- |
| | Harness mode | High back booster | Backless booster |
| Weight range | 22 – 65 pounds | 30 – 100 pounds | 40 – 100 pounds |
| Height range | 27 – 49 inches | 38 – 57 inches | 40 – 57 inches |
The AAP and NHTSA recommend keeping kids in a harnessed seat until they reach the maximum weight or height. They recommend keeping kids in a belt-positioning booster seat (either high back or backless) until they're 4 feet, 9 inches tall (57 inches).
This seat will get you to that point unless your child is over 100 pounds by that time. This could be tricky for kids on the high end of the weight growth chart.
How big is this seat?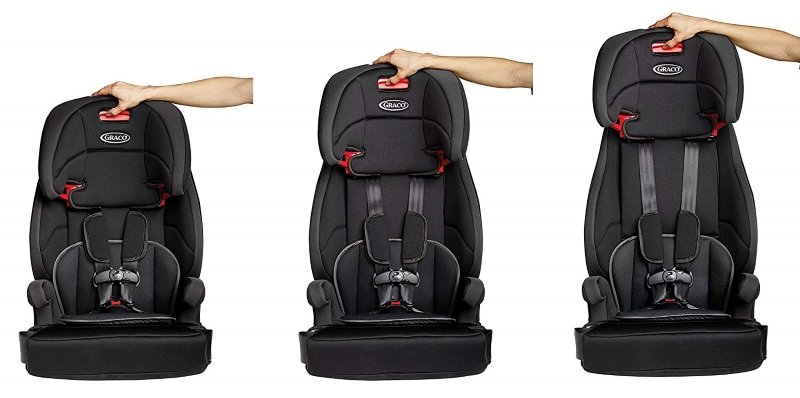 Height: 26.5 minimum – 33 inches max (headrest at top position)
Weight: 12.5 pounds
Width at bottom: 17 inches
Width at front with cupholders: 19 inches
Width at armrests: 18 inches
Inner seat width: 11 inches (narrowest point)
Seat depth with back: 13 inches (15 inches without back)
2 crotch strap positions: 6 and 7.5 inches
8 harness slot positions: 12, 12.75, 13.75, 14.75, 15.5, 16.5, 17.25, & 18 inches
If you've looked at other seats, you can probably tell that 12.5 pounds is really light for a convertible seat of this kind. Parents who change out seats a lot really appreciate that.
Now, whether it fits in all vehicles is kind of hit or miss. It's definitely narrow, which is great in fitting 2 or more car seats next to one another. But while customers have said it fits in small cars such as a 2014 VW Beetle, it didn't in a Volvo convertible or a 2002 Saturn. Another customer said that 3 of them did not fit well next to each other in a 2015 Honda Odyssey.
You can shave a couple inches off the width by folding in the cupholders. They aren't totally removable however.
Bottom line – take good measurements of your interior before purchasing. After buying, keep your receipt and the box and everything else so you can make sure it fits before you commit to it.
How safe is the Graco Tranzitions 3-in-1?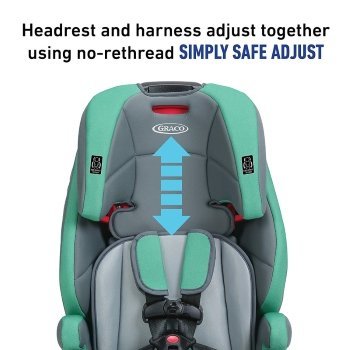 The great news is that we have some customer testimonials from real life crash experiences. One parent reported a side impact crash in 2018 that injured the driver, but the child in the car seat was unharmed. Another parent reported that the car seat protected her daughter in a 60 MPH side impact which struck the car on the car seat side.
Rather than using EPS or EPP foam lining, this seat employs blow-molded plastic which reduces weight. While that may sound like it's not as well-padded as the foam seats, this type of plastic absorbs energy very well. It's long been used in car bumpers and crumple zones in vehicles. And as we can see from real crash experiences, it does perform well.
That being said, these seats are very lightweight, so you will need to routinely ensure they are tightly installed and that all parts are firmly attached. Some parents have reported that the back of the seat detached either while carrying or while riding. Watch out for this issue.
There are currently NO known recalls for this seat.
How easy is this 3-in-1 booster seat to install and use?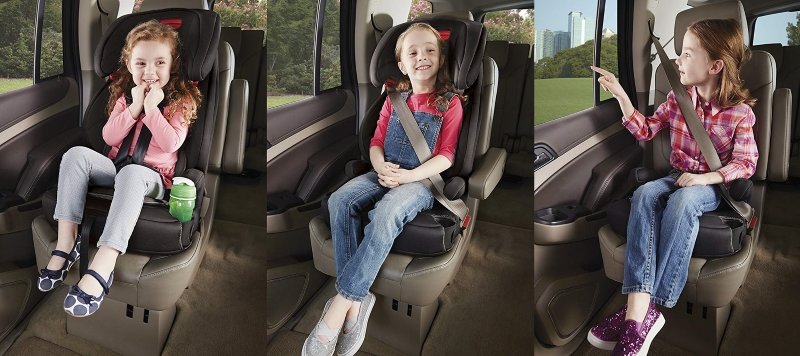 This seat may or may not be a challenge to install. It depends a lot on the design of your vehicle seats and vehicle belts. In vehicles where the shoulder belt is anchored at the side or in front of the seat back, rather than behind it, it may be difficult to impossible to install.
The belt path is high up on this booster seat and narrower than those on other models. Combine that with the light weight and slippery bottom, and installation can be a bear no matter if you're using LATCH or a seat belt installation.
The lower anchors use hook connectors rather than the easier push-on connectors. In some cars, those won't be an issue, but for cars with deep-set anchors, parents have encountered some challenges, namely in getting the seat tight enough.
One good tip is to attach the hooks to the anchors and pull up the inner fabric panel to expose the seat belt path. Then push down on the seat bottom while you pull the lower anchor straps to remove all the slack. For seat belt installation, you'd do a similar thing in applying counter pressure by pushing the seat down while pulling on the shoulder belt to remove slack. Keep pushing down on the seat while engaging the seat belt's retractor to lock it, then let the seat belt go.
Note: This seat is LATCH equipped for use with lower anchors and top tether, but only for kids less than 45 pounds. The top tether should always be attached in harnessed mode, however, even when no lower anchors are used.
Besides not having push-on connectors, there's no storage for either the manual (which customers say is useless) or the harness straps when not in use. We hope they make these improvements to what could otherwise be a nearly perfect seat.
Headrest adjustment is easy, as well as conversion from harness to both booster modes.
BestCarSeatHub's Final Verdict

3 fashionable colors
Lightweight
Affordable
8-position headrest
Washable seat pad, harness covers, and body pillow
Easily converts between modes
Narrow profile

Unclear manual
Seat back may detach unexpectedly
No push-on connectors
No harness or manual storage
Not easy to install in all vehicles
Light weight and high belt path makes it hard to get a tight installation
Final Thoughts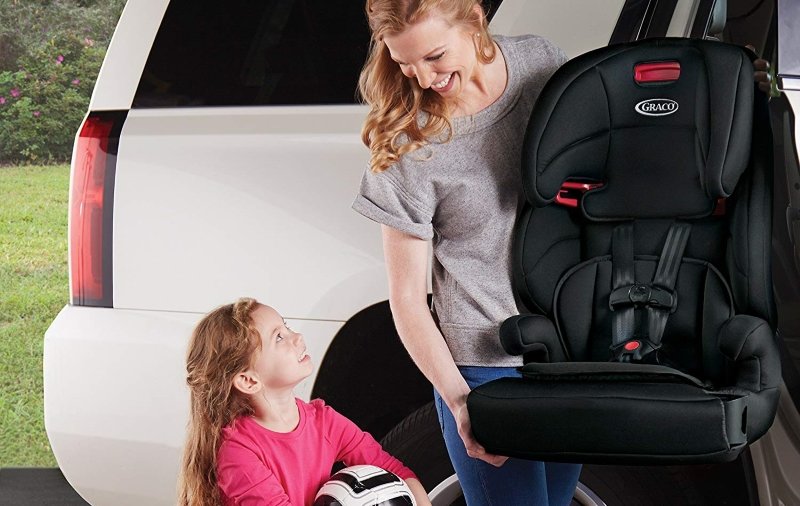 While not a perfect seat, the Tranzitions 3-in-1 is still a solid choice for upgrading your little one from rear to forward-facing and beyond. As long as you get a good installation when using as a harnessed seat and have a well-compatible vehicle, you should have very few issues with it.
Families who are always on the go will appreciate the light weight. Usage as a belt-positioning booster should be a lot easier than the harnessed mode so long as your vehicle seat belts are positioned well enough to easily thread through the belt path.
Also, if you need to fit more than one car seat in the back, this is one of the narrowest combo seats on the market.