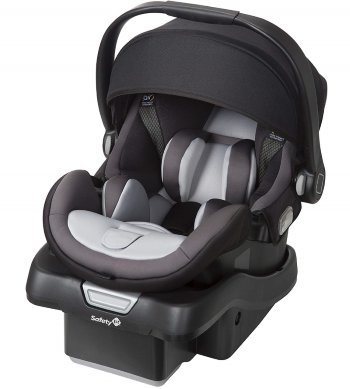 The Safety 1st onBoard 35 Air 360 is a good option to consider for families on a budget. When parents hear that, they might question safety, but that's not an issue with this seat. It's been crash tested from every angle for front, side, rear, and rollover scenarios. This has led to a design that meets or exceeds all federal safety standards as well as the European rollover standard.
While it's average among today's car seat weight ranges (4-35 pounds), it performs as well as other seats twice the price in several areas. It's not without its flaws, least of which is that it's not overly fashionable. Nor does it have a lot of bells and whistles, but it's a seat that will do the job it's designed for – keeping your baby safe.
The onBoard 35 Air 360 replaces the now discontinued onBoard 35 Air car seat. The Air 360 has more extensive crash testing as well as several additional safety features. It's only slightly higher in price, so the upgrades are definitely worth it.
Key Features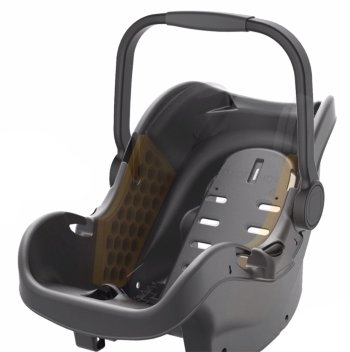 3 color choices – pink, black, and gray
AirProtect side-impact protection
GCell HX race car foam to absorb crash energy
Deep seat structure for added shielding
Crash tested for all types of accident scenarios
Reinforced handle with comfort grip and ergonomic curve
4 harness heights
3 crotch buckle positions
Machine washable/dryer safe seat cover
5-position base
LATCH storage
Reversible infant pillows
Additional leg room
1-year warranty
8-year expiration
This seat is compatible with select Safety 1st Quick Click, Eddie Bauer and Cosco strollers. Here is a list of known compatible strollers (not limited to these):
Schwinn Interval Jogger
Amble Quad
Smooth Ride
Step & Go
RIVA Ultra Lightweight (not the 6-in-1)
Lift & Stroll
Lift & Stroll Plus
Simple Fold
Simple Fold LX
Other strollers are a tossup for compatibility. If you have another stroller brand, it would be best to call the stroller manufacturer and/or Safety 1st to see if the seat is compatible. One option some parents use is a universal car seat carrier or stroller frame.
Child size limits for the Safety 1st onBoard Air 360
Weight range: 4 – 35 pounds
Height range: Up to 32 inches
The seat padding is fairly thick and could be too tight a fit with a bigger newborn, especially when using the infant insert. Also, the crotch buckle may seem too short and can rub against the baby's legs. Again, this is more of a problem when the infant insert is in place.
Will it fit in your vehicle?

Seat
weight
height
length
width
with base
9.4 pounds
24 inches
29.5 inches
18 inches
w/o base
22.5 inches
28 inches
18 inches
While this seat is somewhat heavy, it fits well in most midsize and some small vehicles, even in a 3-seat configuration. It can be a little bulky for some cars, however. One parent with a Toyota Corolla said the passenger seat had to be adjusted all the way up to make the infant seat fit.
NOTE: The infant inserts are not required to be used with this seat. So if your baby doesn't need the extra support, you may remove them.
There is a ball level indicator on the seat. However, several parents noted that they were unable to install the seat at the correct level and had to use a pool noodle or rolled up towel under the base.
How safe is the Safety 1st onBoard Air 360?
There were no recalls for this seat at the time of this review. We were happy to discover how extensive the crash testing was for this seat and how well it performed.
This iteration has several layers of safety protection including GCell HX race car foam, AirProtect side-impact protection, and a deeper seat design so baby is protected more around the head and spinal column.
There haven't been many specific crash experiences reported from customers who used this seat, which isn't a bad thing. But it's nice to see testimonials of the seat performing well in a real-life emergency situation.
One common complaint was the fabric not being breathable. Many parents noticed their babies sweating even in mild temperatures with minimal clothing. It's possible the infant cushion and extra padding might retain too much heat, so keep an eye out for overheating.
Is it easy to install and use?
One thing that we didn't like about installation was the traditional hook style LATCH connectors. These are always harder to use than the push-on connectors. Apparently the now discontinued 35 onBoard Air had the push-on connectors, so with all the other upgrades to the 360, we have no idea why they'd go backwards in evolution with the LATCH connectors.
The good thing about the LATCH straps is the covered storage on the base. You slip the traps into those retaining tabs which keeps them out of the way when attaching/detaching the carrier.
As far as installation, most parents had no issues apart from the leveling problems. The biggest complaint with installation was that the straps were difficult to evenly tighten. Some parents felt the seat didn't feel stable enough using the LATCH straps. Seat belt installation did feel more secure for some parents, but threading it through the lockoff was difficult at times.
NOTE: Many parents complained that the canopy wouldn't stay up. However, a couple of people discovered that there was a panel on the canopy that was folded under. Once unfolded, they had no issues with the canopy staying extended.
The ergonomic carry curve handle with comfort grip is one really nice feature that helps when you're lugging a growing baby around. It's also adjustable to 4 positions, any of which can be used in the car as well so you don't have to wake up the baby by putting down the carrier handle.
The harness is a rethread style with a T-splitter. It's not that difficult to use, but not as easy as the no-rethread one-handed adjusters on other seats.
Optional accessories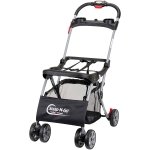 Baby Trend Snap-N-Go EX Universal Infant Car Seat Carrier
Works with all Baby Trend car seats as well as the Safety 1st onBoard seats and many others. Includes 2 parent cup holders with covered storage compartment and large storage basket.
BestCarSeatHub's final verdict

Affordable
Extensive crash testing
GCell HX race car foam
Deep seat structure
AirProtect side-impact protection
Ergonomic handle with comfort grip
LATCH storage to keep straps out of the way
Removable/reversible infant inserts
Machine washable AND dryable

Fabric not very breathable
Tight fit with infant insert in place
Can be bulky in small vehicles
Leveling may require pool noodle or towel
Straps can be hard to evenly tighten
Hook-style LATCH connectors
Not compatible with a wide range of strollers
This seat provides a good value for the dollar. Investing in a more expensive seat will likely earn you some easier installation and better fabric, but not much else.

If you already have a stroller or have your mind set on a specific stroller that's not a Safety 1st model, you'll need to see if this seat is compatible with it because chances are, it won't be.
However, we feel confident that you'll get a safe and comfortable seat for your baby in this model.