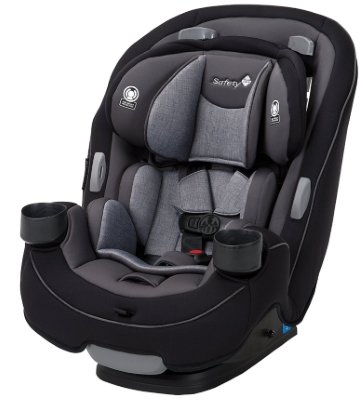 Over thirty years ago (1984 to be precise), Safety 1st released the famous yellow diamond sign that read "Baby on Board." It's hung in millions of cars over the years. Since then, as the name suggests, this company has put safety first and foremost in all their products.
In recent years, they've become philanthropic, donating to parent-founded charities such as The Way Home, Inc. and longer-running organizations like the March of Dimes.
What makes this company stand out is probably their participation in popular events, such as Mom 2.0 and The Biggest Baby Shower. They were also a proud sponsor of Safe Kids Day, highlighting all the work of Safe Kids Worldwide, including a valuable message about preventable injuries.
Using the proper car seat and installing it correctly is one of the biggest ways to prevent injuries to your child. That's why we're taking a look at the Safety 1st Grow and Go 3-in-1 convertible car seat. Does it live up to the standards of Safety 1st, and most importantly, does it live up to yours? Let's take a closer look.
(more…)