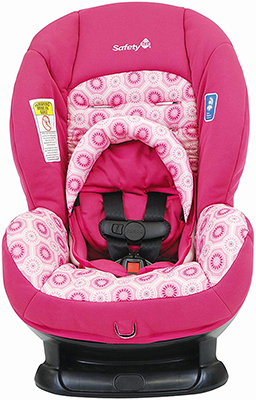 The Safety 1st Scenera LX Convertible allows people to have a safety-certified car seat for a low price. The car seat converts from rear-facing to forward facing to provide parents with flexibility as infants grow into toddlers. The car seat accommodates children weighing from 5 – 40 pounds. The lightweight child restraint also moves easily between vehicles and installs fast.
Sometimes parents are concerned about this bare-bones style of seat. Rest assured that this seat meets all of the safety regulations and standards. However, the weight and height restrictions are a bit limited and make it so that the child seat cannot realistically be used for more than the first few years. Children will require another car seat as they get bigger.
Safety features include side impact protection and a 5 point harness. A removable, washable car seat pad and a removable cup holder add to the convenience.
Key Features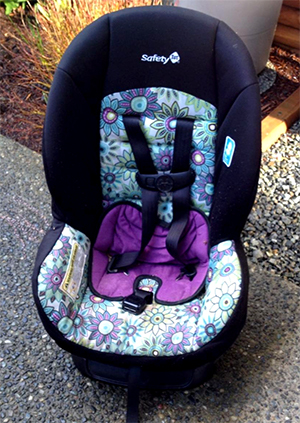 Weight Limit Range of 2.3-18kg
Maximum Harness Height of 1 meter
3 Position Crotch Strap Buckle
Attachable Cup Holder
Removable and Washable Seat Cover
Removable Infant Insert
4 harness heights
Push Button Harness Retainer
Aircraft (UAS) Certified
8-year expiration
Child size limits for the Safety 1st Scenera LX
Weight range: 2 – 18 kilograms
Height range: Up to 101 cm
The car seat comes with a removable infant head rest and body insert. The removable insert padding is thick and will fit tight with bigger newborns. With the insert in place the crotch buckle may seem too short and can rub against baby's legs.
Will it fit in your vehicle?

Car Seat
weight
height
length
width
Dimensions
4 Kg
45.7 cm
68.6 cm
43.2 cm
Parents like that the Scenera is lightweight, easy to transport, and certified for airline travel. These things make it easy to use as an extra car seat for grandparents, baby-sitters and secondary vehicles. It is also more manageable to carry throughout the airport because of its low weight. The car seat has a narrow design so parents can fit three seats across in bigger vehicles.
NOTE: This seat has infant inserts included but they are not required to be used with this seat. You may remove the insert once your baby doesn't need the extra support.
The Scenera has a smaller frame and less padding than some of the current, high end models. This makes the seat a bit more compact and easier to move around and install. Without extra padding this seat is less comfortable for long road trips and better for use around town.
How safe is the Safety 1st Scenera LX Convertible Car Seat?
The Safety 1st Scenera LX passes all necessary safety tests as required by the United States and Canada. It is also FAA/UAS Certified for use on commercial airplanes. There are no recalls for this seat at the time of this review. The crash testing for this seat was extensive and it performed well.
There is concern over the fact that it is a bare-bones style of seat. Although it meets all of the safety regulations, it doesn't go above them like others on the market. Moreso, the low weight and height restrictions make it so that the child safety restraint cannot realistically be used for more than a few years. This requires another purchase to get the child to the necessary age for non-car seat usage.
Is it easy to install and use?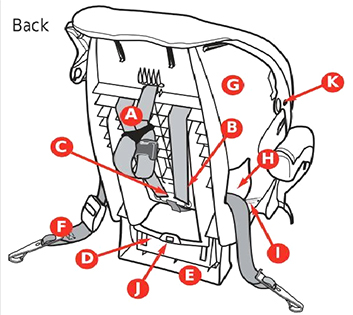 The Scenera is a budget car seat so it has a bit smaller frame that is easier to move around and install. Unfortunately the car seat does use the traditional hook style LATCH connectors for installation. The newer push-on connectors are always easier to connect.
Most parents had no issues with installation apart from slight leveling problems that are not uncommon with a seat this size. If your vehicle has a seat with a downward slope you can use a tightly rolled towel or a foam noodle underneath it to help level.
NOTE: Make sure the level lines on the side of the shell are level to the ground.
Remember that the safest car seat is always one that installs correctly in your car and can be harnessed appropriately each time.
BestCarSeatHub's final verdict

Lightweight
Low cost
8 Year Expiration
FAA/UAS Certified
Narrow Design for 3 Across
Attached Cup Holder
Washable Seat Cover

Low Harness Height
Low Weight Limits
Uncomfortable Design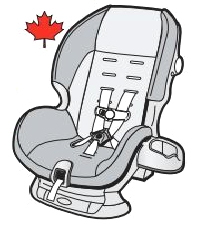 This seat provides a good value for the dollar. Investing in a more expensive seat will only earn you a bigger seat, better fabric, and some expanded safety features.
The Safety 1st Scenera LX Convertible is a great option for those looking to have several different seats for a low cost in their child's youngest years. This allows different family members or babysitters to have a seat in their individual car and alleviates the need to uninstall and reinstall the restraint over and over again, which also reduces the chances of error in installation.
With this model you can save some money and still provide your baby with a safe and comfortable convertible car seat to use the first few years.