The Clek Fllo 3-Across Convertible Car Seat is designed to accommodate. For parents, it delivers convenience and the latest safety technology. For young ones, its built-in performance features ensure a smooth, comfortable and safe ride.

At 16.9 inches wide, the Clek Fllo convertible car seat is narrow and compact. So, if you need to fit three car seats across the back seat of your vehicle, this is the model for you.
One of the Safest Narrow Convertible Car Seats on the Market
In the Clek Fllo, you'll find industry-leading safety features, putting it among the safest narrow car seats. These features are designed to limit motion of the car seat in the event of an accident. Minimizing motion reduces the potential your child is injured in a crash.
Some of these noteworthy features are:
A steel anti-rebound bar: This is a really good safety feature, but it's not found on all car seats because it's not required. Located near the base of the car seat, an anti-rebound bar engages when a crash occurs.
It reduces the forward and backward movement of the car seat from the impact of the crash. The bar catches on the back seat of the vehicle to gently stop the rebound and rotation movements that occur in front and side collisions.
Energy management system: Clek developed and patented what it calls energy absorbing crumble technology. It works by taking the energy from the impact of a crash and transferring it to aluminum honeycomb deformable cores in the base of the car seat.
It sounds pretty technical, but basically it means your child's body will not absorb the energy from the crash, thus preventing severe injuries.
The system works whether installing using the vehicle's LATCH system or seat belts.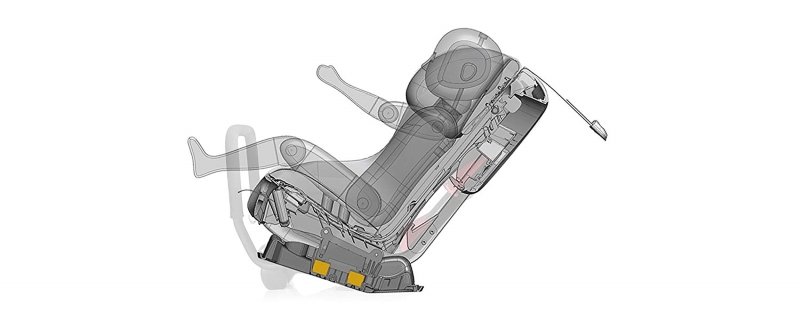 Advanced side impact protection: This seat is loaded with side impact protection features to prevent serious injury to your child if a side impact collision occurs. Among the features are:
Energy absorbing foam layers located on the inside and outside of the frame. This lessens the amount of energy crash forces that are transferred to your child.
An adjustable, structural headrest lined with energy absorbing foam. It is built similar to your vehicle's headrest. It attaches to the frame using steel rods for maximum head protection.
The headrest is enhanced with deep side wings for added crash protection.
The car seat's safety features have successfully met or exceeded rigorous mandated testing. These tests include compliance testing, new car assessment program (NCAP) testing that simulates forces in extreme crashes, side impact testing and structural integrity testing.
Easy Conversion from Rear-Facing Position to Forward-Facing Position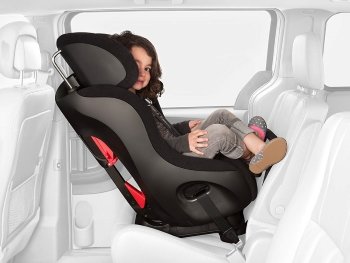 Parents are often confused as to when they should switch their child from a rear-facing seat to a forward-facing car seat. Clek Fllo removes the guesswork with clear instructions based on height, weight and age.
According to Clek's specifications, the rear-facing position is for children 25 to 43 inches in height, 14 to 50 pounds in weight and at an age when he or she can remain sitting upright without any assistance.
The car seat can be used for newborns, but you have to purchase an infant insert, which Clek sells separately. This insert also must be used for any child who cannot sit upright in the seat unassisted.
The Clek Fllo convertible car seat is one of the few rear-facing car seats designed to an extended child's weight of 50 pounds. It is in response to safety experts and pediatricians who recommend young children ride in a rear-facing car seat in the back seat of a vehicle for as long as possible.
The forward-facing position is for children 30 to 49 inches in height, 22 to 65 pounds in weight, and age two and older.
These guidelines are very much in line with the 2018 updated car seat recommendations from the American Academy of Pediatrics.
A Versatile, Fairly Easy to Install Baby and Toddler Car Seat
If the seat is being installed next to other car seats in the back seat, keep in mind that while the Clek Fllo is designed to fit three across the back seat, it doesn't necessarily mean it will fit well in all vehicle makes and models.
According to the car seat manufacturer's dimensions, the convertible car seat is:
In the Rear-Facing Position:
Height: 25.5 to 27 inches, depending on height of headrest
Weight: 25 pounds; 28 pounds when the anti-rebound bar is in use
Seating Depth: 12.5 inches
Fore-Aft Measurement: 32.5 inches or 29 inches when anti-rebound bar is removed for extended rear-facing usage
In the Forward-Facing Position:
Height: 26 to 31 inches, depending on height of headrest
Weight: 25 pounds
Base Width: 13 inches
Seating Width: 16.9 inches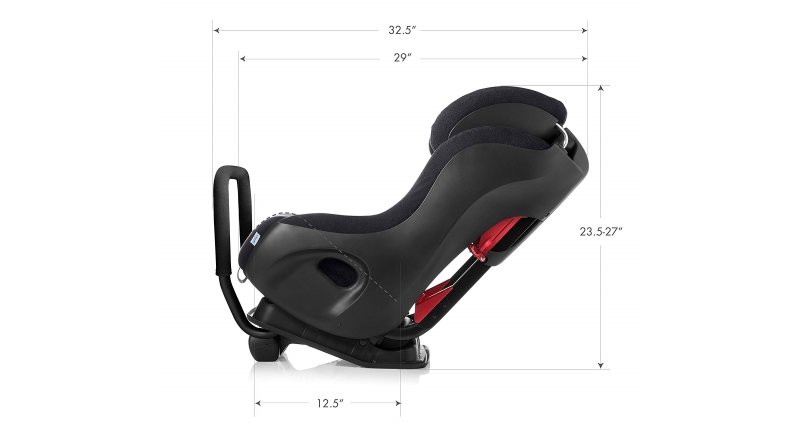 Although the car seat has a narrow profile, it is pretty long in the rear-facing position. You might need to pull the front passenger seat all the way up to fit the car seat in the back seat behind it.
For example, when the seat's rear-facing, you need 32-1/2 inches front to back and 25-1/2 inches in height, so it might not accommodate smaller, compact cars.
With that said, the Clek Fllo is surprisingly easy to install, with just a few troublesome areas.
One plus is that the seat can be installed using either the LATCH system or your vehicle's seat belt. However, it does take some muscle to ensure a proper fit when utilizing the LATCH system. The LATCH connectors are button style, which should be easier to connect than clip style, but it still takes some work.
When installing in the rear-facing position, the integrated flip foot and anti-rebound bar help to get a tight installation. Attaching the bar takes some time and effort, though. And, if you're using rear-facing to the extended weight, you might want to remove the anti-rebound bar so the seat is more upright.
With both rear-facing and forward-facing positions, the Clek Fllo has one fixed recline angle. It's set at a 40 degree angle for infants under 22 pounds and a 30 degree angle for toddlers over 22 pounds. There's a recline foot built into the base so there's no question whether you have the recline angle in the proper position.
When installing in the rear-facing position using the vehicle's seat belt, it's a bit cumbersome lifting the car seat to thread the seat belt under it. But, the locking clips for the seat belts are extremely useful, especially for vehicles where the seat belts don't lock. Installing in the forward-facing position is much easier because there's no need to lift the seat.
Unfortunately, the harness on this model is rethread, rather than the faster non-rethread style. As such, you have to remove the harness straps from the hook and thread it through the new slot as your child grows. On the plus side, the shoulder straps offer six height positions.
Using the Clek Fllo Convertible Car Seat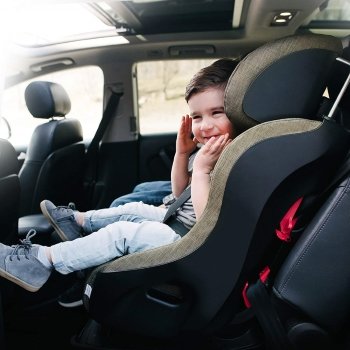 This area is where the Clek Fllo loses a few points. For starters, the release button to loosen the harness strap is far inside the seat. While this is probably a good thing since you don't want your child being able to release the strap, it makes taking your child out of the seat a bit tricky.
Also, you have to adjust the crotch strap from the inner slot to the outer slot when switching from rear-facing to forward-facing. Even so, with only two crotch strap positions, some toddlers sitting in the forward-facing position may find the crotch strap too tight. Although Clek offers a solution to this problem in the form of a longer crotch strap, you have to buy it separately.
On the plus side, there are a lot of convenient features that make using this car seat a breeze. For starters, the headrest adjuster button makes quick work out of adjusting the headrest to your child's height.
Also, choosing the correct shoulder harness slot for rear-facing and forward-facing positions requires no effort. The metal harness plate is also a timesaver because it allows you to quickly get the snug fit you need on the harness straps.
If you plan on moving this car seat from one car to another, the car seat is all one piece. No removable base makes it compact to carry and maneuver. The metal reinforced substructure adds some weight to the car seat, but it's not as heavy as some others on the market.
The convertible baby and toddler car seat also travels well and is FAA compliant. However, it's a bit heavier than seats designed to be lightweight for traveling. So, depending on how much air travel you do, this may or may not be a factor.
Care and Maintenance of Clek Fllo Car Seat Material Needs Some Improvement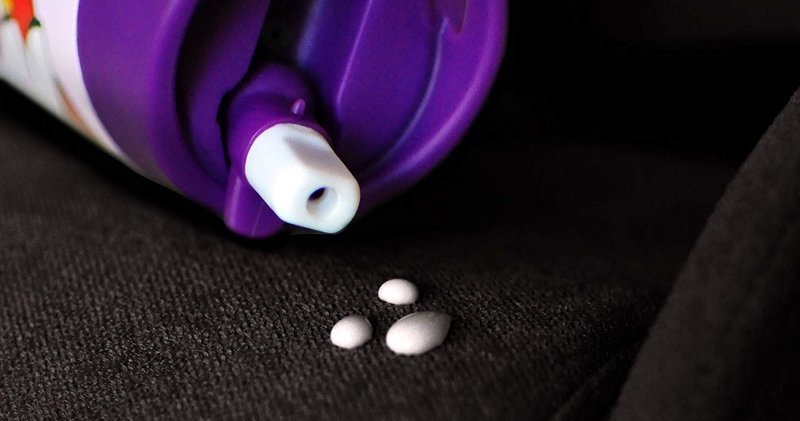 Since this car seat will be taking your child from baby to toddler, it's going to get a lot of use. In fact, the car seat's expiration is nine years, so Clek expects it to be in use for numerous years. So, one has to wonder why the car seat manufacturer did not make the seat padding machine washable.
The Fllo instruction manual gives several options for cleaning the fabric, but all are by hand, either with a soft brush or the edge of a spoon to scrape off stuck on residue.
Granted, the material contains a stain guard that is supposed to provide "permanent protection" against stains and odors. But, as parents know, young ones' messes often test those "permanent protection" claims.
One big plus about the car seat's fabric is its lasting performance. There are several options to choose from, something you rarely see with car seats. The fabric choices are:
Standard Crypton, which is plush and soft like terry cloth;
Noire Crypton, which has a soft, micro-suede feel;
Tailored Crypton, which has a smooth feel and is considered a premium fabric;
Tokidoki for Clek, which is a micro-fleece fabric known for its softness, lightness and cozy like flannel feel;
100% Merino wool, which provides a soft feel and is ideal for all temperature climates.
Parents also will appreciate that all fabrics are free of toxic brominated and chlorinated flame retardants.
Noteworthy Things About the Clek Fllo Convertible Car Seat
It sits high in the seat, which could be a good or bad thing. Young ones can see out the windows, but drivers might find it difficult to see outside the back side or rear windows.
The design of the actual seat of the car seat makes it very comfortable.
The expiration date is nine years from the date of manufacture versus seven years for many other makes and models.
There's a two-year extended warranty beyond the one year standard warranty.
---
PROS and CONS:

Narrow profile
Ideal for 3 across car seat situations
Can install using either seat belt or LATCH system
Weight limit for rear-facing position extends to 50 pounds
Exceptional overall quality for the price
Lots of safety features
Nontoxic fabric
Very detailed instruction manual

No adjustable recline
Rebound bar takes up some space in the vehicle
Rethread harness style
A bit heavier than other seats for airline travel
Higher price than other seats
No cup holder, have to purchase separately
Although made in Canada, it is for use in the U.S. only
Conclusion
The Clek Fllo convertible car seat is perhaps one of the safest baby toddler car seats on the market. It incorporates advanced technologies to ensure child safety in the event of a crash, while not diminishing comfort features.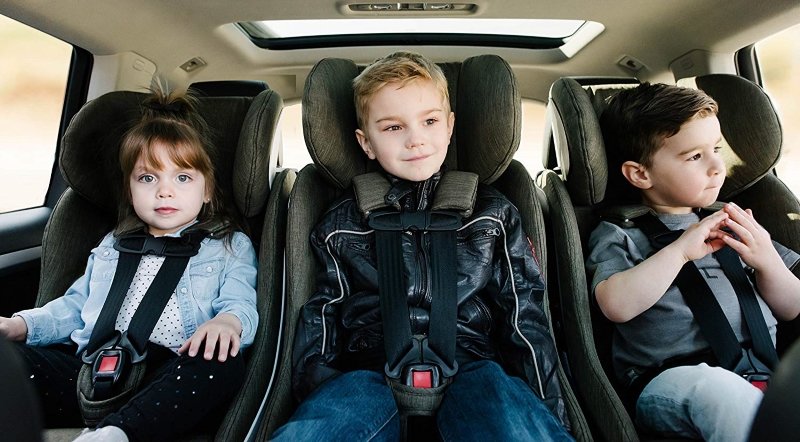 In terms of fit, at under 17 inches wide, it's compact and narrow enough for those looking for a 3-across car seat. Although its weight comes in lower than other seats on the market, it doesn't quite meet the definition of lightweight.
However, the Clek Fllo 3-across convertible car seat is of high quality and very sturdy. The seat is very comfortable to accommodate the many years it will be in use.
Overall, it's a chic looking convertible car seat that outperforms in safety and functionality. It does have some misses in terms of ease of use, but when comparing quality and price, it's well worth the investment.