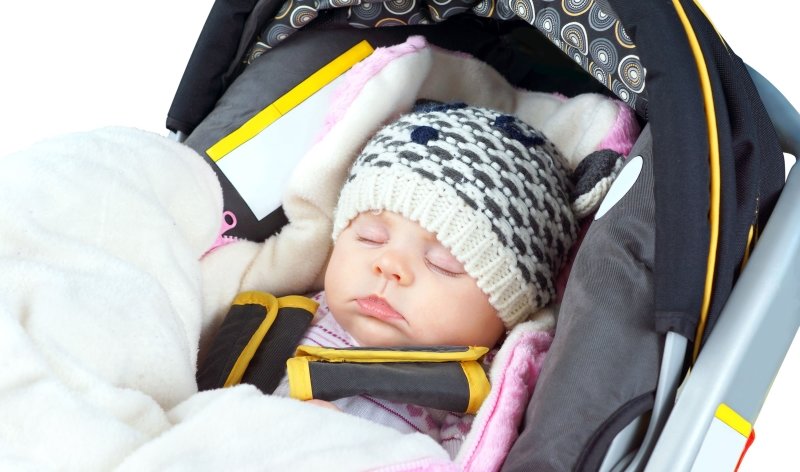 It's only natural to bundle up your child in a warm winter coat before heading out into the cold weather. But, if your child will be riding in a car seat, a winter coat may also create a safety hazard.
According to the American Academy of Pediatrics, winter coats, snowsuits and other bulky clothing can compress in a crash, increasing the risk of injury to your child.
This hazard exists for children of all ages, whether they are riding in a rear-facing car seat, a forward-facing car seat, a booster seat, or the vehicle's seat using its seat belt system.
So, how do you remove this danger?
Simply follow these winter car seat safety tips to ensure your child remains both safe and warm while riding in a car seat during the cold winter months.
Why Coats Cause a Car Seat Hazard
In order for car seats to do their job in the event of a hard stop or accident, the harness of the car seat has to be tightly secured directly to your child's body. That means no space between your child's body and the safety belt.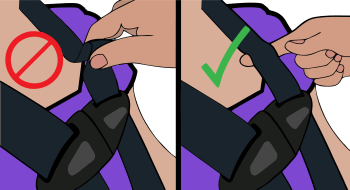 Remember the pinch test? If you can pinch extra material in the straps of the seat harness, you need to tighten the harness more.
When a child is wearing a heavy coat, or any bulky clothing for that matter, the harness is not close enough to your child's body.
In fact, crash test research shows that puffy coats and snowsuits leave as much as four inches of extra space between your child and the harness. That might not sound much, but it's plenty of space for a child to slip through the harness in an accident.
Picture this: When a vehicle crashes, the force will flatten out a winter coat's extra padding. When it does, it creates extra space between the harness straps and your child's body. It's enough space to cause your child's head to slam back and forth, and worse, to cause your child to slip through the car seat's safety straps and be thrown from the seat.
According to crash test research, bulky coats significantly increase a child's risk of injury in a crash, especially head and chest injuries.
In fact, this hazard is not just child-related. The same thing can happen to adults wearing winter coats or bulky clothes under their seat belt.
Take the Coat Test
Here's an easy test you can perform to see if the winter outerwear your child is wearing compromises the protection of a car seat.
Sit your child in the car seat without the coat on.
Fasten the car seat's harness belt.
Tighten the harness until you can no longer pinch any slack in the webbing of the straps at your child's collarbone.
Next, unhook the harness without making any adjustments to the harness straps and remove your child from the car seat.
This time, put your child back in the car seat with the coat on.
Try to buckle the harness. If you can't do it without loosening the harness straps, then the coat is too bulky to wear.
NOTE: While a very small amount of harness adjustment is expected when your child is wearing a tight fitting sweatshirt or fleece jacket, it's the extra amount of slack created by bulky clothing that presents a safety risk.
Clothing a Child Should Never Wear in a Car Seat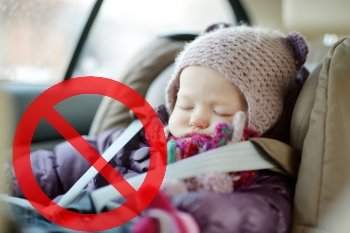 Never dress your child in the following types of clothing unless you plan on removing it once he or she is seated in the car seat.
Winter coats;
Snowsuits;
Bulky sweaters;
Down vest;
Any type of puffy clothing.
Clothing a Child Should Wear in a Car Seat
Keeping children warm in car seats during the winter months is all about layering. Here are some ideas:
Take advantage of thermal clothes, like thermal underwear.
For the next layer, add leggings, tights, a long-sleeved bodysuit and warm socks or booties.
For the outer layer, consider thin fleece pants, a flannel top, a thin sweater, or a zippered hoodie.
To top everything, add a thin fleece jacket, mittens and a warm hat.
Other Options for Keeping Your Kids Warm While Riding in a Car
It takes one extra step to practice safe winter car seat safety. Just before you're about to leave, warm up your vehicle by turning on the heat.
Once in the car, remove your child's coat. Then, buckle your youngster in the car seat and do any of these options instead:
Option 1: Put a warm blanket over your child. Place it over the top of the harness straps.
Option 2: Have your child put the winter coat on backwards. Slide your child's arms into the sleeves so the back of the coat lies perfectly over the harness and keeps your child nice and warm. Remember, the coat should be over the harness.
Option 3: Dress your child in a winter poncho or cape. This way, you can lift the poncho over the secured harness.
Option 4: Consider a thin winter coat or fleece jacket. Leave it open until you buckle the harness. Once your child is properly buckled in, zip up the coat over the harness.
NOTE: These options also apply to children using the vehicle's seat belt system without a car seat.
Car seats can only provide the protection for which they were designed if used properly. In the winter, that means removing your child's puffy coat and other bulky outerwear while riding in the car seat.
Take advantage of other ways to keep your child warm while in the vehicle so you can rest easy knowing your child is snug as a bug in the car seat.