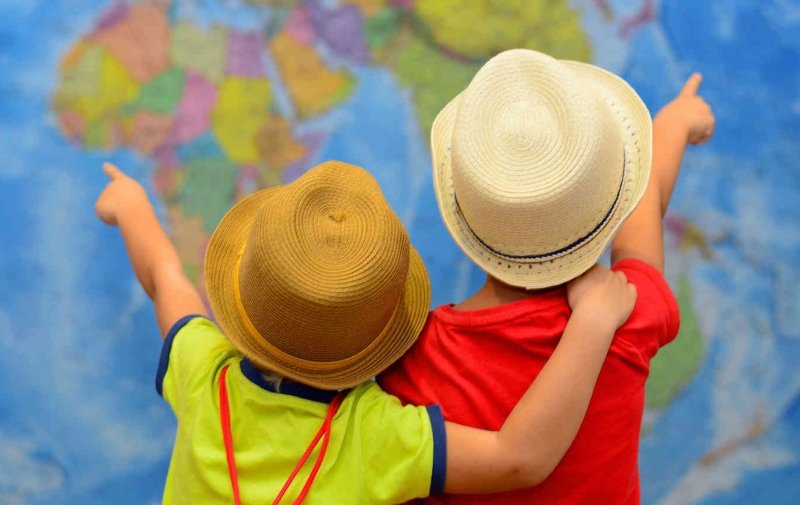 With all the modern conveniences for baby travel, there's no need to give up your love for travel when you have children. Babies are so flexible and love to take everything in. Toddlers love exploring and older children enjoy the adventures other destinations hold.
What's important is the time you're spending with your child, the bond you're creating and the great new adventures you're experiencing together.
To ensure you have a safe, fun and stress-free trip, rely on the advice of child experts and parents who have learned about traveling with children from experiences they have encountered.

For convenience purposes, these parent-tested baby travel tips are broken down into pre-travel and while traveling categories.
Research Before You Travel
Once you have your travel plans locked in, it's time to do some research on the destinations where you plan to travel. Some things to look into when traveling with a child are:
Mode of transportation requirements:
Trains, ships and airplanes have different requirements when traveling with young children. For example, age requirements among airlines vary from two days old to two weeks old. Similarly, most cruise ship lines require the baby to be at least six months old. Child age requirements are posted on the company's website.
Car seat requirements:
Whether traveling in your own vehicle or renting vehicles throughout your travels, it's important to know the child safety seat regulations in all the countries you will be visiting. Additionally, certain states or territories within countries, such as U.S. states, may have individual car seat rules that you need to know. This information is easily accessible online.
Passports required:
Depending on how you travel and where you are traveling to and from, you may need to show either a passport or a certified birth certificate for your baby. Check with your country, as well as the countries you plan to visit, to find out what form of identification your child needs.
Accommodations:
Not all accommodations are baby-friendly. In fact, some resorts are adult-only, or only welcome children ages 12 and older. Look for family-friendly accommodations that have babysitting services, daily children activities and infant and toddler events.
Before your stay, reserve a crib or pack 'n play. Also check to see if your room is furnished with a mini refrigerator and microwave, two essentials for storing bottles and warming milk.
Also consider accommodations that offer laundry services or provide a laundry room. It's a great convenience to be able to do a load of laundry, especially if it's a long trip.
Depending on the age of your baby, a condo or rental home might provide better accommodations because they have a kitchen, laundry room, larger bedrooms and bigger areas for children to play.
Travel Insurance:
If your health insurance coverage doesn't extend to where you are traveling, consider travel insurance. It reimburses you for a number of expenses, including medical, and some policies will reimburse you if you have to cancel the trip.
Life Essentials:
In some countries, the water may not be safe to drink for children of a certain age. Be sure you have access to potable water throughout your travels. If bottled water isn't readily accessible, consider packing a water filter for drinking bottles.
Also check where the closest hospital or urgent care center is in all the destinations you will be visiting. And, familiarize yourself with the available transportation options.
Traveling By Airplane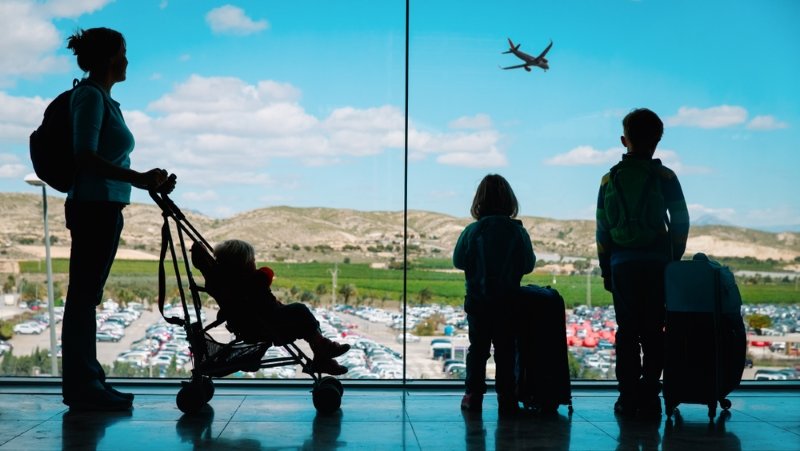 Plane travel is tricky because of the various rules and fees airlines impose on passengers. Here are some tips for flying with a baby:
For faraway trips, consider one, nonstop flight, preferably an overnight flight, rather than several stops with hours long layovers.
If it's within your budget, fly business class or first-class for the extra room.
Try to book an aisle seat, preferably at the front of the plane.
Some airlines require you to pay a fee for infants sitting in your lap. It's best to pay this fee when purchasing your ticket (you may have to call after booking online), rather than doing it at the airport on your day of travel.
For long, international flights, call in advance to request a baby bassinet. Then, arrive early for your flight because bassinets are usually assigned on a first-come, first-served basis at the gate.
Be sure your car seat meets airline requirements. Car seats for airplanes display a sticker indicating they are approved for air travel. Most airlines also require car seats to be less than 16 inches wide.
Know how to install your car seat on the airplane. For example, in the U.S., federal aviation administration (FAA) guidelines suggest rear-facing car seats for children less than 20 pounds.
When going through ticketing at the airport, ask if there is an empty seat available and, if so, if you can be seated next to it. This gives you extra room for your baby, especially if you will be holding the infant for the whole flight.
Look to see if the airport has separate security and customs lines for families.
Be prepared to take your baby out of the stroller, car seat carrier, or baby sling carrier before going through the metal detector. At some airports, you may have to walk through with your baby, then walk back through alone.
At the gate, be prepared to check strollers, as well as car seats, if not using them for seating on the plane. Tip: Look into buying a travel system that combines a car seat and stroller. The car seat easily snaps in and out of the stroller, so you can detach it when you just need the seat.
Take advantage of priority boarding if it's available.
Have a pacifier on hand for when the plane takes off and lands. The sucking motion will prevent your baby's ears from aching from the change in cabin pressure.
Traveling by Train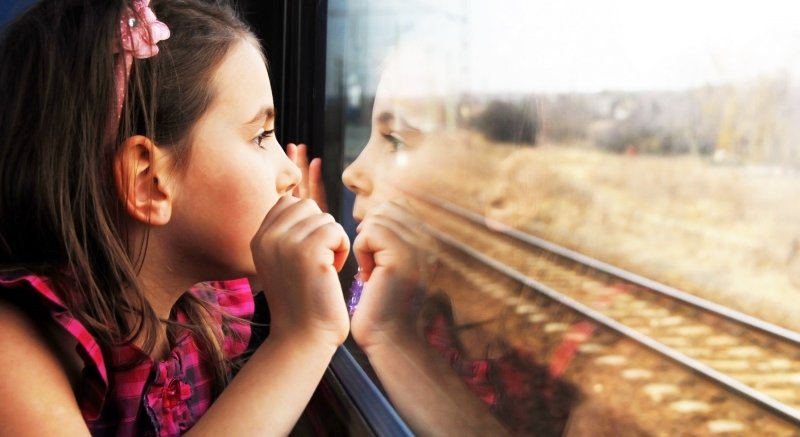 Traveling by train with children is a great way to see the country and provides roomy and comfortable accommodations. It's also affordable, with infants under age 2 riding free with a paying adult and children ages 2 to 12 riding for half price.
Here are some tips for planning a train trip with infants and toddlers.
Pay attention to the length of the trip and whether you have to change trains.
When making reservations, try to avoid peak hours and holidays when trains are crowded.
For longer trips, be sure to book a sleeper car.
Strollers are not considered extra baggage, so there's no extra fee, plus they're the best way to move about with your young ones.
Trains do not have seat belts, so consider using a travel system stroller and car seat combo. Your child can remain secured in the stroller/car seat on the train.
At the train station, look for red cap personnel for assistance with your luggage, navigating the train platform and boarding the train.
When boarding the train, look for group seats, which are ideal for families.
Warn your youngsters ahead of time about the loudness of the frequent train horn.
Most train car bathrooms have diaper stations.
Once at your destination, consider taking the train rather than renting a car. It's faster and your child can sit safely in the travel system stroller.
Traveling by Ship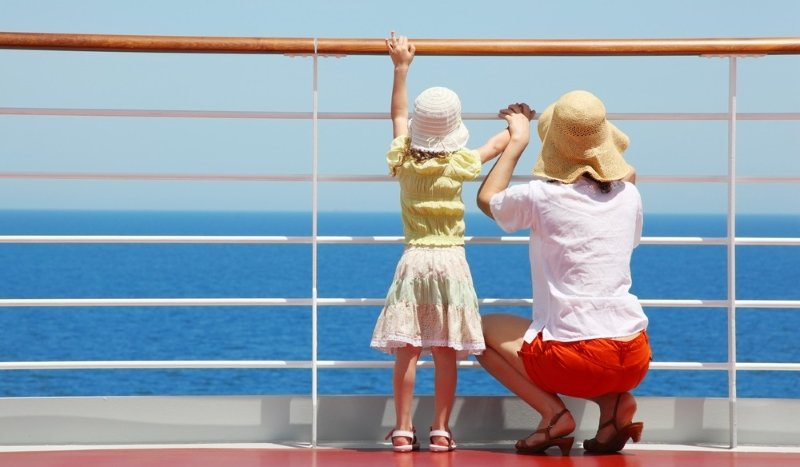 Traveling by cruise ship with children offers an all-inclusive vacation. Your accommodations, meals and activities are all included, and attentive cruise personnel are at your service 24/7.
Most cruise lines have family cabins, including staterooms and suites, many with a veranda or balcony. Also look for cruises that have tons of activities for babies, toddlers and older children.
Additionally, you can plan outings off the ship at the various ports of call. Choose an excursion offered by the cruise line for an additional price or go off and do your own thing.
Some travel tips to keep in mind when cruising with baby are:
Research the destinations to find baby-friendly activities, like playgrounds, children's museums and parks.
Remember to pack a travel system stroller. You're going to need the stroller aboard the ship and the car seat if traveling to activities off the ship.
Reserve an early dining time when booking your cruise.
When reserving, be sure to make requests for a pack 'n play, the type of milk your baby drinks and an in-cabin refrigerator.
Check to see if the cruise line will puree or mash food for your baby. If not, plan on packing baby food or look for a service that provides in-cabin baby food delivery at the ports you're visiting.
Try to keep your young ones on their usual nap time.
Consider packing an inflatable bathtub since most cruise lines have showers only.
Cruise lines offer diaper service or sell diapers onboard, but both can be expensive, so try to pack as many diapers as you can.
Book babysitting services as soon as possible, either online or as soon as you board the ship.
Traveling by Car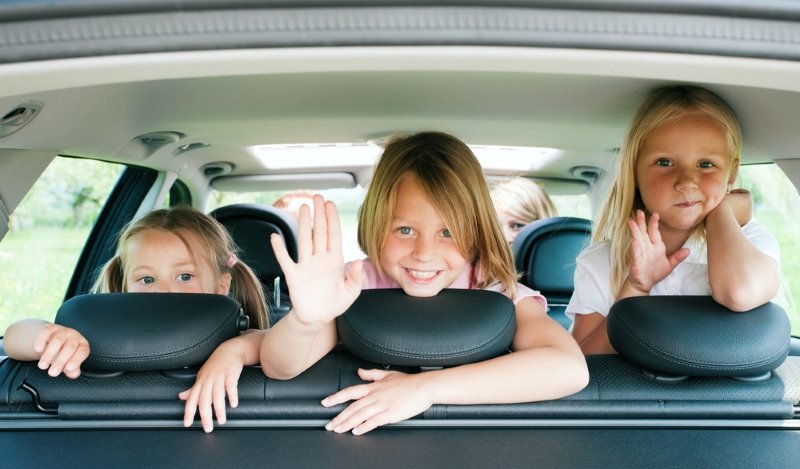 If you're traveling in your own vehicle, be sure it's ready for the long trip by having it serviced before you go. The last thing you need is a flat tire or engine troubles.
If you plan on doing a lot of long trips by car, consider investing in a travel car seat that has extra padding. A convertible car seat, for example, is designed for comfort since it's built for infant to youth use. It starts out as rear-facing and converts to forward-facing once your child reaches the appropriate height and weight requirements.
If you plan to rent a vehicle when you arrive at your destination, here are some tips to follow:
Be sure to reserve a car seat when making your vehicle rental arrangements.
Make sure you are given the correct car seat for your baby's height and weight. For the highest safety, your infant should ride in a rear-facing car seat, while your toddler may ride in a forward-facing car seat if he or she meets the height and weight requirements.
If you plan on taking a taxi, not all of them are equipped with car seats. You may need to request one when reserving a cab ride and even then, some cities do not require ride services to have them.
Baby Travel Packing List
Babies require a lot of stuff. At the same time, you want to pack as little as possible. This packing list contains must-have items you don't want to forget at home.
In the Diaper Bag:
Diapers;
Baby wipes;
Diaper cream;
Baby powder;
Changing blanket;
Trash bags or zippered storage bags for dirty diapers and clothes;
Hand sanitizer or disinfectant wipes;
Blanket and safety pins to create a privacy curtain if you prefer privacy when breastfeeding on a plane or train;
Prepared baby bottles (if traveling by plane, train, or ship, prepare the bottle with the powder and add the warm water as needed);
Toys;
Extra blanket;
Pacifier or teething ring;
Extra baby sling.
To Carry-On:
A baby carrier or travel system stroller
In Your Carry-On Luggage:
Extra change of clothes for everyone in case your young ones have a diaper accident or food/drink mishap;
Snacks (Tip: food and drinks in pouches travel better);
Extra pacifier or teething ring;
Portable, instant stain remover;
Noise canceling headphones;
Travel safe baby bottles.
In Your Baby's Suitcase:
Baby's clothes;
Favorite stuffed animal;
Sleep sack;
Extra diapers and wipes;
Extra blanket;
Baby sunscreen;
Small manual breast pump;
Baby bottles;
Nose aspirator;
Medical supplies (bandages of different sizes, thermometer, fever-reducing medication, baby nail clipper, baby soap and lotion, infant toothbrush and toothpaste; etc.);
Travel bed or pack 'n play, depending on your accommodations and plans, such as going to the beach;
Portable, folding baby seat in case a high chair isn't available where you dine.
Baby Travel Dos and Don'ts
No matter how you're traveling, where you're traveling to, or for how long, these tips will make traveling with an infant, toddler, or young children easier.
Don't overpack. Purchase things readily available where you're traveling, such as diapers and wipes.
Do eat dinners early. There's less of a wait time and your young ones will be back in time to stay on their nightly bedtime routine.
Do follow your baby's signals. If your baby is getting cranky or fussy, cut short your travels or activities, if possible.
Do try to keep your baby on the same routine. While traveling messes with routine, some sense of normalcy will help. Try to keep eating and napping patterns the same, as well as things like bath time or storytime before bed.
Do sanitize. Since a baby's immune system is still developing, use a disinfectant cloth and wipe down armrests, tray tables, and other surfaces your baby will be touching.
Don't plan a lot of traveling. Moving from place to place every other day is not conducive to baby travel. Rather, stay at one place for several days and plan day trips.
Don't give young children raw foods in a foreign country. Raw fruits, vegetables and other foods may contain bacteria from water that isn't very clean. Feed your young ones cooked foods to ensure the heat kills any bacteria.
While On The Go
Be prepared for the unexpected. Anything can happen to you and/or your baby when you're traveling, so be prepared for it. Some things that could pop up are:
Getting sick;
Jet lag;
Baby diaper blowout;
Missed flights;
Vehicle breakdowns or accidents;
Flight delays;
Change of plans.
The best way to deal with the unexpected is to remain calm while finding a solution. It helps to familiarize yourself with the areas where you'll be traveling. For instance, know where pharmacies or markets are and have a Plan B for everything.
Young children feed off of the emotions of adults, so they won't get upset if they don't see you getting ruffled. Think of setbacks or obstacles as a teaching moment to help your child learn how to deal with the unexpected they will encounter through life.
Remember, when traveling with your baby, you want to create happy memories that will last a lifetime!