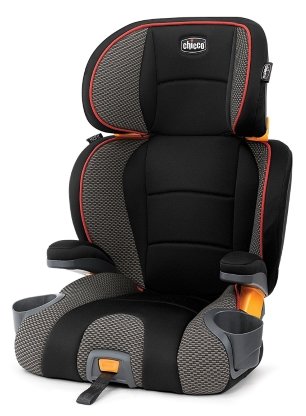 Since its inception in 1958, the Chicco company has offered innovative children's products to fit the needs of modern families. Safety and comfort are their main focus, but being an Italian company near Milan, they don't ignore fashion. From car seats to apparel, you can count on Chicco to offer eye-pleasing styles that fit trendy tastes and decor.
By partnering with charitable organizations such as Mission Bambini and Operation Shower, Chicco is committed to keeping children across the world safe and giving back to those in need. Their testing facility, lovingly called The Happiness Lab, partners with ergonomists, pediatricians, parents and babies to stay up-to-date on the changing needs in safety and comfort.
Chicco has become a leading name in the car seat industry, which is why we review several of their infant and convertible seats. They tend to have excellent ratings in our reviews. The KidFit 2-in-1 is their first booster seat product, so let's see if their winning streak continues.
The booster decision – is your child is ready to make the switch?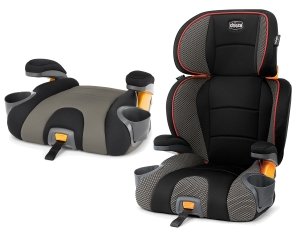 Before you one-click any booster seat, you have to be sure your child is actually ready to ride in one. Oftentimes, children (and parents) are eager to ditch the harnessed car seats and begin using a lighter and easier-to-buckle booster seat that utilizes the vehicle seat belt.
However, according to AAA, vehicle belts are designed to fit 165 lb. males. That's why experts recommend keeping children in a harnessed safety seat for as long as possible.
If you can answer yes to all these questions, your child is probably ready for (or should still be using) a seat-belt positioning booster:
Has your child outgrown the manufacturer's recommended size limits of his current car seat?
Is your child 4-8 years of age and at least 35 inches tall? Are they 40-80 pounds and under 4 feet, 9 inches tall?
Can he NOT yet sit with his back straight against the vehicle seat while his knees bend completely over the edge?
Is it obvious that the vehicle seat belt alone doesn't fit where it would on an adult?
There are four types of booster seats:
Boosters with an internal harness
Boosters used without harness for seat-belt positioning
High back seat belt positioning booster
Backless seat belt positioning booster
What you choose will depend on your child and your family's needs.
What are the key features of the Chicco KidFit booster seat?
Like all Chicco products, the KidFit is designed for safety first but with some nice extras that make car rides comfy and fun. It has a wider base than some other models, which could crowd the backseat a bit if you need to seat three passengers there.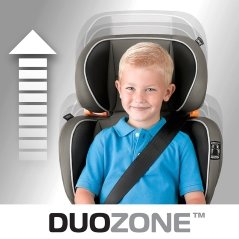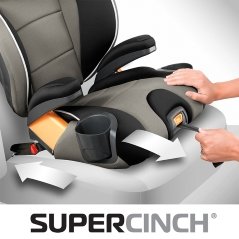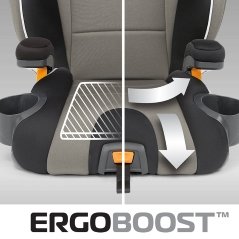 Some key features:
head and shoulder protection w/ 10 height positions
tightener for use with the LATCH system
double padding and contoured seat for better support and comfort
Converts to a backless booster
2-position backrest to adapt to vehicle seat shape
Two removable, flexible (and collapsible) cup holders
Machine washable seat pad and armrest covers
8 year expiration
Earned a Best Bet rating on IIHS for 2015
What are the child size ranges for the Chicco KidFit booster seat?
30 – 100 lbs. high-back booster weight
38 – 57 in. high-back booster height
40 – 110 lbs. backless booster weight
38 – 57 in. backless booster height
Note:

The KidFit has a higher weight maximum at 110 lbs. then the comparable Evenflo AMP and Graco Affix seats at 100 lbs. It also has a lower weight minimum of 30 lbs compared to the Evenflo AMP at 40 lbs. However, the KidFit is 1 – 3 lbs. heavier than its competition, about 3 in. wider and tends to be a little more expensive.
How big is the Chicco KidFit, and will it work in your vehicle?
It really depends on the car. Some people had no problems getting it to fit with 2 additional car seats, whereas others had issues with crowding. If you collapse or remove the cup holders, it could free up a few inches of space. If you have bucket seats, the base may be too wide to fit. In third row seats, it may be necessary to extend the vehicle seat's headrest to its full height in order to fit the car seat's headrest properly.
Base width:

17 in. with cup holders collapsed

Back width:

19 in. at shoulder height

Seat depth:

14 in.

Range of belt guide positions:

13 – 19.5 in.

Seat weight:

10.2 lbs.
Travel note: As with most booster seats, the Chicco KidFit is , since it must be used with a shoulder belt and planes have only lap belts. If you need to fly often with your child, consider a convertible car seat with a 5-pt. harness system instead. Be sure to follow all weight height limits for the car seat, however. If your child is too big for the harnessed seat, he's probably fine to ride seated directly on a plane seat.
How safe is the Chicco KidFit booster seat?
The IIHS (Insurance Institute for Highway Safety) rated the KidFit as a Best Bet choice in 2015, meaning it passed all the fit tests of the Hybrid III 6-year-old child crash dummy. It has no product recalls on the NHTSA and ranked higher on crash test results than most of the competition.
Even more important than the brand of booster seat, is whether or not the child is mature enough to sit properly in it. With a belt-positioning booster, children need to be old enough to be able to sit still and upright while riding without unbuckling themselves. Children aren't often able to do this consistently until at least 5 to 6 years old.
If they are old enough to buckle themselves in, they need to know how to properly position the seat belt through the belt path without getting it twisted. They should never be allowed to stick the shoulder belt under their arm or allowed to lay over on the car door (especially if you have side air bags).
Possible flaws: Some parents reported that the high back portion of the seat felt wobbly and loose when carrying the seat from one car to the next. Since it is removable, this is probably just due to the design.

Other parents didn't like that the seat rattled sometimes when empty during a drive. The instructions advise you to secure it with the vehicle belt when not in use to keep it still and prevent it from becoming a projectile in a crash.

A few people noted that the latch straps were too short to connect to the vehicle's LATCH system. However, there is a release button for the straps that helps extend them further which these parents may have not utilized.
How easy is the Chicco KidFit to install?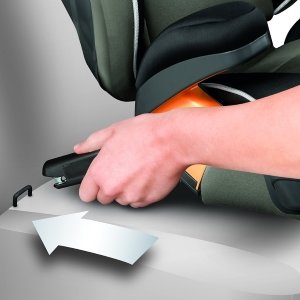 By far, this seat seems to be one of the easiest we've come across as far as installation goes. The manufacturer recommends using both the LATCH system and the vehicle belt with this seat, which is unusual compared to most guides. But in this case it's probably wise, especially if riding without your child. The LATCH would keep it from becoming a projectile in an accident.
Possible flaws: One parent had issues with the seat belt slipping out from the guide clip above the child's shoulder. This may be a one-off incident, but is a good reminder to check the fit of every connection each time you get in the car.
Optional Accessories:
Keep in mind that experts do not recommend adding anything to the booster seat or vehicle belt itself since most of these products haven't been crash tested/approved. But here are a few safe options:
Keep your seat bottom from getting marked, stained and sticky while keeping your front seat back free of scuffs and dirt. The mesh pockets hold fun travel essentials like small toys, books, crayons, snacks, etc.
For children with electronic devices such as tablets and earbuds, this one comes with a zippered, clear-front pocket for touchscreen devices so your child can watch movies, play games, etc without risk of dropping the device. It also holds sippy cups, tissues, and lots more.
Best Car Seat Hub's Final Verdict
Here's a rundown of what we thought of the Chicco KidFit 2-in-1 Booster Seat.

Fits many different ages/sizes with 10 adjustable back heights
Easy installation and easy for kids to buckle
Easily converts to a backless booster
Reclines in 2 positions to fit different vehicle seat angles
Machine washable seat pad and armrest covers
Removable, collapsible, dishwasher safe cup holders
8 Attractive colors to choose from
Rated Best Bet by IIHS

LATCH attachments might not work well in some cars
Need to use seatbelt to secure the seat in high back mode even when not in use
Vehicles with hard to move or unmovable headrests could prevent proper fit
Made in China
High back portion may feel flimsy when carrying or rattle when seat is empty
A bit more expensive than competitors
Design style isn't as appealing as other Chicco products
---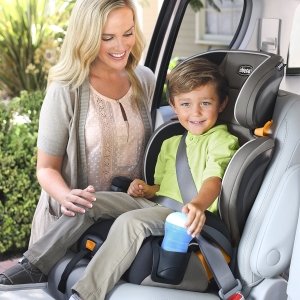 There's not much to criticize in this seat. With its easy installation, washable fabric and cup holders, it's definitely parent-friendly. We really liked that the cup holders can collapse if you need some extra room on one or both sides.
It's not the cheapest of comparable seats, but with its excellent ratings and zero recalls, it's probably worth a few extra bucks to know you're getting a safe booster seat. With the 10 height positions and removable back, it's a good investment that will grow with your child for quite some time. The 8-year lifespan might even allow you to pass it on to a younger sibling.

While it might not be the most stylish seat that Chicco offers, we feel confident in recommending it for anyone looking for a booster seat.