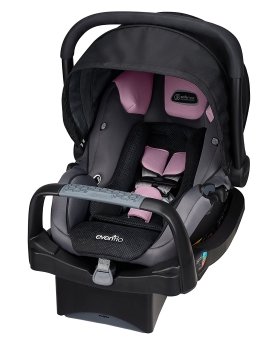 As one of the world's leading baby product companies, Evenflo is a household name for millions of families. When first founded in 1920, the company focused on baby feeding products alone, including the first rubber nipple secured with a cap instead of being pulled over a bottle top.
By 1960, after recognizing the changing needs of modern-day families, Evenflo began offering complete nursing kits that included bottles, nipples, sterilizers, and accessories. Since 1995, the company has expanded its products to include bottle and breastfeeding equipment, strollers, car seats, and more.
Their car seat line includes infant, convertible, all-in-one and booster seats. Among their infant seat line is the Evenflo SafeMax, built with an anti-rebound bar in the base to better withstand rollover accidents. Let's find out whether the extra safety measures are worth the investment.
Why invest in a good infant car seat as opposed to a convertible or all-in-one seat?
The American Academy of Pediatrics recommends keeping children in rear-facing seats for as long as possible (up to a minimum of 20 pounds). Infant car seats are designed specifically for rear-facing travel.
Some convertible seats don't provide as good a fit for small babies. It's harder to get the straps tight enough, plus the harness slots may be positioned too high (they should be at or slightly below the baby's shoulders).
The seat shell and angle of an infant car seat are designed to provide the most comfortable and snug ride for a small baby. A convertible or all-in-one seat could be too roomy, thereby lessening the side impact resistance.
What exactly is an anti-rebound bar?
The Evenflo SafeMax comes with an anti-rebound bar built into the base. Rebound is a secondary force which manifests as a reactive motion in the opposite direction after the initial impact occurs. In other words, if you're in a front impact, the rebound force will force your body or a car seat backwards.
Without a rebound bar, this means a baby could be violently pushed against the back of the vehicle seat, increasing risks of head, neck and spine injury. The rebound bar sits against the vehicle seat back and acts kind of like a rollover cage in a race car.
Undoubtedly, if you install a car seat correctly (without a rebound bar), it will protect your baby far better than a poorly installed seat. So always make sure you follow the installation manual, and if you have any questions, consult a car seat technician or the seat manufacturer to walk you through it.
The SafeMax also includes access to a live installation service called ParentLink PREMIER where you can communicate with experts via live video feed or live chat. This is an excellent option that we hope more seat manufacturers will implement in the future.
What are some key features of the Evenflo SafeMax infant car seat?
Like all infant car seats, the SafeMax is only designed to be used rear-facing and comes with a separate base. The good thing is you can buy extra bases to fit in other vehicles when you need to switch cars. Compared to other infant seats, parents report the SafeMax is lightweight and easy to carry, which is great for on-the-go families.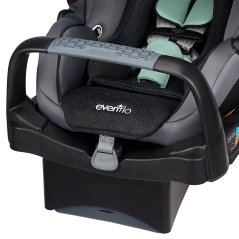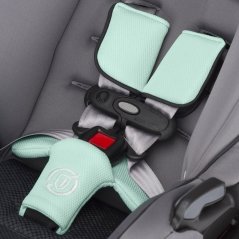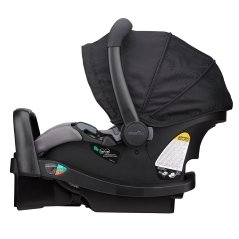 Some key features:
4 harness height positions
3 crotch buckle and hip width positions
Machine washable seat, buckle, and strap covers
6 year expiration
FAA approved
Anti-rebound bar
Seat belt lock off
SureSafe installation LATCH guides
Buckle pockets to protect against burns on hot days
Rollover tested
Full canopy
Breathable fabric
Comes in black/grey, black/green, or black/pink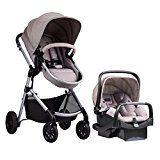 If you're looking for an infant car seat that will work with a stroller, the SafeMax isn't very versatile in this regard. It is sold either solo or as part of the Pivot Travel System with a stroller. Parents reported that it doesn't fit on most other strollers, and the only way to get the stroller that does fit is to buy the whole travel system.
What are the child size limits for the Evenflo SafeMax?
Parents have been generally happy with the fit for small infants. Whereas many seats seem to swallow a newborn whole, this one fits nice and snug. However, you may not be able to use the infant padding for long, as some parents found the fit too tight after the babies were a couple months old.
4 – 35 pounds weight range
17 – 32 inches height range
Note: Comparable seats such as the Safety 1st Onboard 35, Evenflo EmbraceLX, and Graco SnugRide Click Connect 35 have identical weight ranges. They tend to be a bit cheaper than the SafeMax but do not come with an anti-rebound bar.
How big is this seat and will it fit in my vehicle?
This relatively compact and lightweight seat should fit in most vehicles easily. However, since the US requires the carrier handle be completely down while traveling, the seat will take up a couple more inches in the back. Those in the front passenger seat of a small vehicle may lose some legroom because of this.
5, 7, 9, and 11-inch harness slot positions (without infant insert)
4 inch lowest harness slot with infant insert
4 and 5.5-inch crotch strap/buckle positions
5 and 8-inch hip width positions
19 inch shell height
30 inches seat length with handle down
28.5 inches seat length with handle up
15 inches base width
17.5 inches carrier width
7 pounds carrier weight
Possible design flaw: Though there are 3 crotch and hip positions, there are only 2 slots for each in the seat cover.
How safe is the Evenflo SafeMax?
Evenflo was the first company in the car seat industry to perform rollover testing of their car seats. The SafeMax has passed all the side-impact, rollover, and other crash tests with flying colors. Their crash tests are conducted at twice the federal mandates for impact force, and each product must pass these standards before going to market.
The vigorous testing along with the anti-rebound bar and lack of parent concerns about safety make us confident that this seat is a safe choice.
Note: The SafeMax has a sister seat called the LiteMax 35 which does not come with an anti-rebound bar. It also works with the Pivot travel system, and all of the features are pretty much identical, with a majority of positive reviews. The LiteMax often runs about $30 – $40 cheaper than the SafeMax.
How hard is it to install this seat?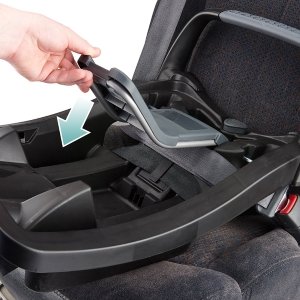 The SafeMax uses a SureSafe installation system with LATCH guides that make installation easier. A seat belt lock off makes installing the base with the seat belt easier. Parents who'd used other car seats agreed that this seat was one of the easiest to install.
The only challenges some parents had was that the straps didn't provide a lot of give when getting their children in and out. Plus, others had a hard time getting the handle to move easily.
The US requires (for now at least) the handle of infant car seats to be all the way down (position 3) during travel. This could be an issue not only with adjusting the handle but also with how much room it takes up with the handle down. Taller front seat passengers may not like the lessened legroom that this car seat could require.
Again, if you require assistance with installation, be sure to take advantage of the ParentLink live help via chat or video.
Possible design flaw: The recline angle indicator is located on only one side, so it's hard to read if you need to install the seat on the driver's side.
Optional accessories
Though you don't need much besides a properly-installed, quality car seat and a diaper bag of essentials, a few extras can help make longer trips a little more comfortable.
Having an extra base is a great idea if you have more than one vehicle or need one for a caregiver. It saves a lot of time when you're on a busy schedule.
When you don't want to use the portable carrier or a stroller, wearing your baby in this carrier is a great option. It fits babies from 8 – 32 pounds and works in 4 ways to accommodate your growing baby.
Best Car Seat Hub's Final Verdict
Let's summarize a few pros and cons of the Evenflo SafeMax.

Fits small babies well
Big canopy
Seat belt lock off
Anti-rebound bar
Vigorous safety testing, including rollover tests
Easy installation
Lightweight seat
ParentLink live help

3 positions for crotch and hip but only 2 holes in cover
Harness doesn't loosen much for easy in-and-out
Handle must be all the way down, leaving less front legroom
Handle may be hard to move
Not compatible with most strollers
Recline angle indicator is only on one side
With its high safety standards, ease of use and positive parent feedback, the Evenflo SafeMax is a seat we can definitely recommend. We love the ParentLink live help feature, which will be a big benefit, especially for first time parents and caregivers.

While there are cheaper options, the extra investment is worth it for the added anti-rebound bar, but for families on a tight budget, the sister seat Evenflo LiteMax would certainly be a good alternative.