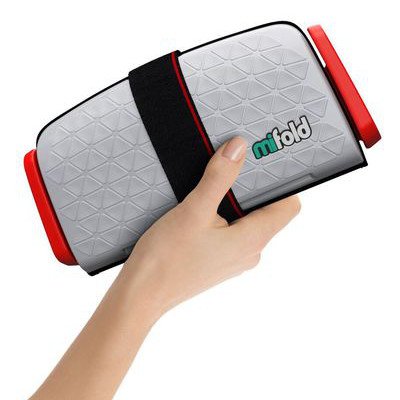 Most of us have seen an ad for mifold by now – the portable booster seat company that is 10 times smaller and just as safe. It was difficult to understand that such a small booster seat can still be safe for kids, but once I read more about the engineering behind mifold, it started to make sense.
Safety –
Regular booster seats lift toddlers to adult height, whereas mifold holds the seatbelt down for your child. The upper part of the belt lies across their shoulder, off of the neck and face. The lower portion is pulled down from the stomach and lies over their hip bones.
Innovative placement technique isn't the only safety feature that sets this booster seat apart. The framework of a mifold is built with aircraft grade aluminum and SuperTough™ plastic polymers. A Quick-Clip™ allows the seat to adjust and fit toddlers aged four to 12. The clip can be maneuvered with with one hand, perfect for parents who find themselves wishing for a third arm.
The mifold design is safe for your children, but they may not be as thrilled from sitting lower in the car. Traditionally they've always been able to look outside the car window, but smaller kids lose that privilege with mifold. On the other hand, many children feel belittled sitting in a large booster seat. They look at their older friends and impatiently wait to grow out of it.
A mifold is less noticeable and many kids prefer it. Maybe consult your family before making the switch…but remember, you are the one carting it around when traveling, carpooling, in an uber or a taxi, etc.
This booster seat is extremely convenient for quick trips like picking up the kids from school, or dropping them off at a friend's house.
The mifold is not designed to completely replace regular booster seats, but rather to be the most optimal booster seat option for when you are out and about and need the convenient option for your kids.
This is exactly why mifold has named the revolutionary portable booster seat the Grab-and-Go Car Booster Seat.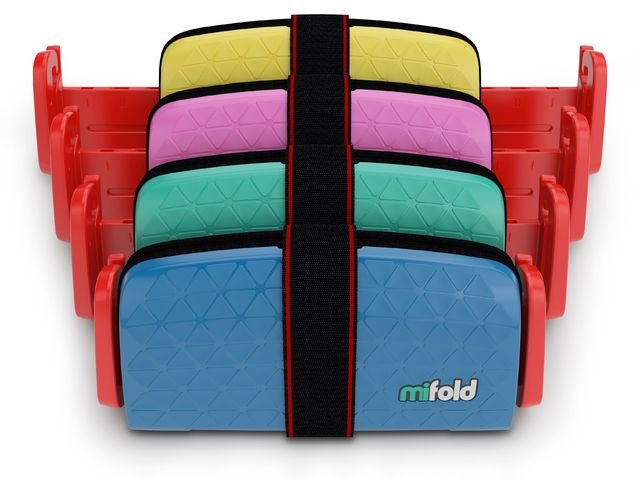 Features –
Finding a booster with a strong exterior is important to consider, but you have to find something comfortable too. Especially those of us dependant on the car ride home for our little one to fall asleep. The mifold seat cushion is made with DenseFoam™ and FrictionFabric™ to give your child a comfortable but supportive ride.
With a product this safe and comfy, the convenience of mifold makes it a must buy. No more paying to check the booster seat when you fly. No more struggle to clip in the kids. No more running out of space for your non-toddler passengers. Fold it up and stash it under the seat, in the glove box, in your seatback pocket…I think you get my point.
You'd imagine something so easy to carry around would get trashed pretty easily, and even more likely for parents who fight to protect household items from their toddler(s). Luckily, when not in use, mifold clips shut and it's hard case protects the seat cushion from everyday wear and tear.
Now, a few tips for prospective shoppers. Read your shoulder belt guide carefully, some users find it difficult to understand, but placement is important! If you're looking to strap into the middle seat (yes, three car seats can safely be used at once.) be sure that your car is compatible. Some users have found that a back-middle seat with a "mini-buckle" won't work with mifold. Just as with most things in life, practice makes perfect.
Have patience with your kids and provide encouragement for the first few times you assist in setting them up in this portable booster. The more frequently it is used over time, the more quickly your kids will be able to adjust the seatbelt strap and be ready to go. To ensure that you have correctly set up the booster seat, most importantly for safety measures, this instructional video provides a great explanation on how to properly utilize the portable booster seat for your kids.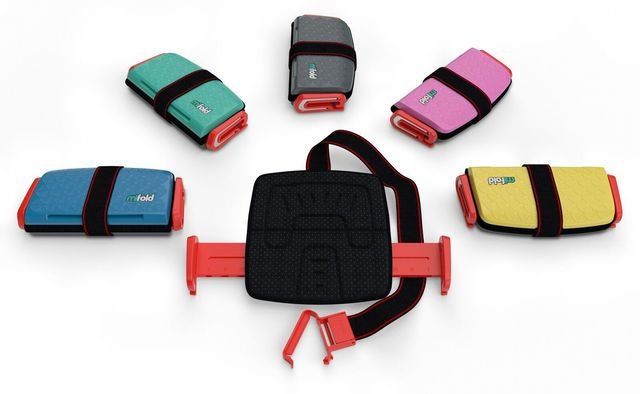 Accessibility –
The process is simple and consists of three steps. First, alter the mifold to fit your child by adjusting the shoulder strap length, and the width of the seat's side arms. Next, fasten the seatbelt across your toddler in the seat. Once secure, slide the belt into the two lap belt guides on either side of the seat. Finally, clip the mifold shoulder strap to the upper portion of the seatbelt. This holds mifold in the safest place across your child's shoulder.
Weight and height guide:
USA – 4+ years old, 40 to 100lbs, 40 to 57in tall
EU – 4+ years old, 15kg up to height of 150cm
Passes or exceeds following regulations:
Inventor and CEO of mifold, Jon Sumroy, decided the world needed a booster seat like mifold after raising four children. He spent years struggling to fit his children in the family car safely, and decided parents deserve a "mighty small and mighty strong" booster seat. I'd say even if you don't like the idea of your kids using mifold on a daily basis, the convenience alone is worth the purchase for when you need something quick and simple.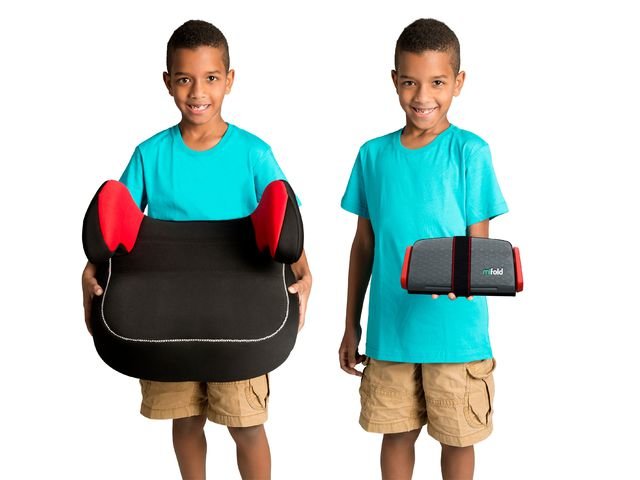 The mifold design is the most convenient portable booster seat on the market today, and it has certainly created a buzz in the parenting world. With distributors located just about anywhere from the United States to New Zealand, parents everywhere across the world are getting their hands on the mifold.
Grab your portable booster seat on the mifold website and choose from six colors, including pink, slate grey, and denim blue. You can also find a few color options on Amazon. To receive a free carry bag with your purchase, locate the nearest buybuy BABY store.
Order one before your next trip and see what the hype is all about this summer!