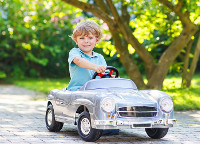 Choosing a car seat for a three year old can be difficult. At this age, they still seem so vulnerable to us, yet they are quickly learning independence and won't hesitate to voice their opinions about everything from what to watch on television to what they want to eat for dinner.
As confident as they may seem, they aren't ready to make big decisions such as which car seat to buy. Your toddler may see some of her friends sitting in booster seats and insist on having her own "grown-up" seat.
You may begin to wonder if she's right. Booster seats are usually more convenient and lighter to lug around than harnessed seats. However, just because she may look big enough for a booster, doesn't mean she is. So, what's a parent to do? Avoid a tantrum or ride it out for safety's sake?