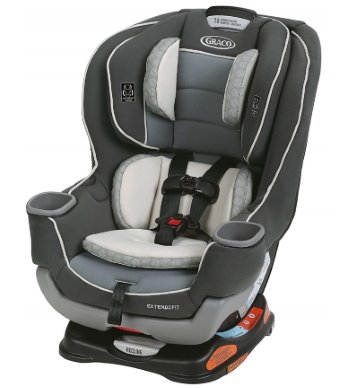 Extended rear-facing (ERF) in car seats has been a huge topic in the car seat realm ever since the American Academy of Pediatrics recommended rear-facing for a minimum of 2 years. Currently, the NHTSA (National Highway Traffic Safety Administration) recommends rear-facing for as long as possible. A British study found that a minimum of 4 years is even better.
Since most infant seats max out at 25-30 pounds, it would be a good investment to buy or upgrade to a convertible car seat with a higher rear-facing limit. Whether you start out with a convertible or infant seat is up to you, though many child safety experts recommend using a dedicated infant seat for your baby's first year.
The Graco Extend2Fit convertible has one of the highest rear-facing limits we've seen at 50 pounds. Since the average 4 year old weighs about 40 pounds, this seat could allow a vast number of children to ride rear-facing well past their 2nd birthday.
But what about their legs? Won't they be cramped? This is the #1 concern with ERF. Many studies have shown that it's actually more dangerous riding forward-facing, particularly because children's heads, necks and spines are much more susceptible to injury than their legs. Plus, kids are a lot more flexible than adults, and a broken leg is less life-threatening than a neck or head injury.
However, the Graco Extend2Fit convertible car seat has taken the issue of cramped legs into account with this innovative model for growing toddlers. We've broken down the stats for you so you can decide if this car seat is worth the hype.
Key Features of the Graco Extend2Fit convertible car seat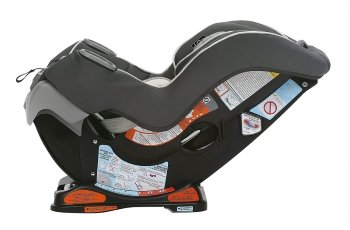 50 pound rear-facing weight limit
4-position leg extension which adds an extra 5 inches of legroom
10-position headrest
No-rethread harness
Buckle pockets
6-position recline
Two removable integrated cupholders
10 year expiration
InRight LATCH system with push-on connectors
1 year standard Warranty
Parents love that this seat is still affordable even though it has a large feature set. They also appreciate that even with the leg extension the car seat is streamlined and not as bulky as you'd think it might be.
One of the biggest complaints some parents had involved removing and replacing the cover when washing it. There are a bunch of little loops that hold the cover on, and some of the hooks are small and in hard to reach areas. This is probably the most disappointing aspect of this seat. When you have babies and young toddlers, having an easy to clean seat cover is a huge time saver.
Note: There are a few other versions of the Extend2Fit, all of which are quite a bit more expensive.
Extend2Fit with RapidRemove – same features but with an EASY-to-remove cover.
Extend2Fit Platinum – same features but with an easy-to-remove cover and EZTight LATCH
Extend2Fit 3-in-1 – same features plus can be converted to a high-back booster seat for 30 – 100 pounds.
Forever Extend2Fit All-in-One – same features, but can convert to both a high back booster (30 – 100 pounds) and a backless booster (40 – 120 pounds).
What are the child sizes of the Graco Extend2Fit convertible car seat?
Rear-facing
Forward-facing
weight range
height range
weight range
height range
4 – 50 pounds
Maximum 1 inch below headrest adjuster handle at full extension
22 – 65 pounds
49 inches or less
Like many car seats, this one has some rules regarding the recline positions, but they can be a little tricky to keep up with. Rear-facing can only be used in positions 1 – 4. In forward-facing, you would use position 4 for kids under 40 pounds and 5 or 6 for kids over 40 pounds.
You'll see a recline angle ball indicator on the side of the seat that will help you get the right recline for babies 3 months and younger. The ball has to be within the light blue circle. After 3 months, you can set it anywhere within the 1 – 4 positions until they're 40 pounds.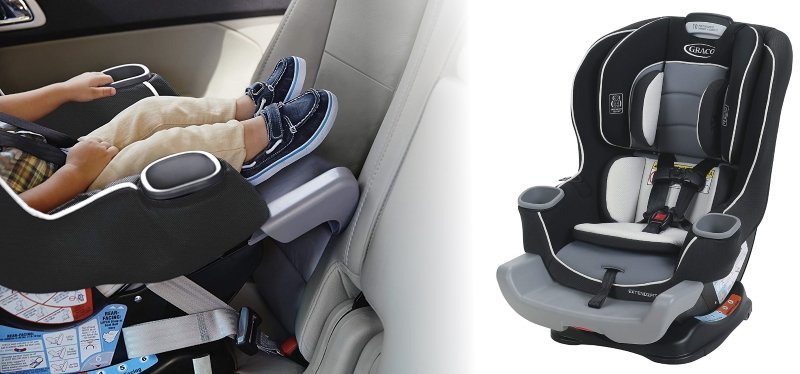 It may take a while to get used to the leg extension panel. It says it has 4 positions, but the first position is the default, fully retracted position. You can use positions 2 – 4 for kids over 40 pounds.
Though the minimum weight of this seat is 4 pounds, this seat will likely be too big for safely transporting babies under 7 pounds. With small babies the harness may be too high and leave too much space in the hip and crotch area. This is common with a lot of convertible seats, so for a preemie or small newborn you're better off going with an infant car seat to start.
How big is the Graco Extend2Fit and will it fit in your vehicle?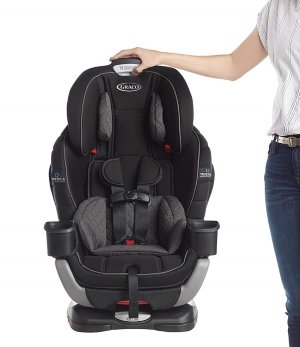 Seat weight: 18.4 pounds
Seat depth: 12 inches
Height with headrest: 27 inches
Harness height range: 7 – 18 inches
Widest point (external): 19.6 inches
Height at shoulders: 13.75 inches
Crotch strap depths: 4.5 and 6.5 inches
Though not the bulkiest seat on the market, it will be a challenge to fit 3 car seats in a row unless you have a larger vehicle. Also, for some vehicles, the headrest may block some rear window visibility when it's extended to its full height.
Taller front passengers have reported only a slight decrease in legroom when the seat is rear-facing and the foot extender is fully out. However, if you're extremely tall or have a compact car this could be more of an issue. In these instances a middle of the backseat installation will probably work best.
How safe is the Graco Extend2Fit convertible car seat?
First of all, we were happy to discover that the seat performed well in some real life crash experiences. In one of those, both a 1 and 3 year old (each in Extend2Fit seats) were involved in a rollover (6x) accident at 70 mph and were not injured. In another, a 16 month old was involved in a spinout with side-impact crash and had no injuries.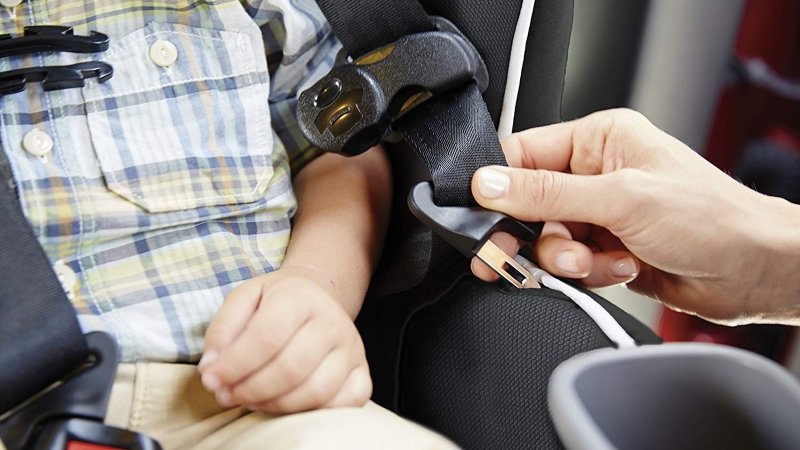 The padding of the Extend2Fit is comfortable and attractive with a few different color choices like grey/black and pink/black. It's adequately padded, but there are other seats with thicker padding that feels sturdier. However, the majority of parents felt the seat was very sturdy and that their children were safe and comfortable in it.
That being said, some parents reported that they couldn't get the seat reclined enough and as a result their children's heads slumped too much. Others had a lot of trouble tightening the harness straps. A few had issues getting the LATCH and seat belt installations tight enough to hold the seat securely.
A weird safety issue one parent discovered involved the warning labels on the cushions. Apparently, they are screen-printed on and can get really hot. So you may want to feel them first in hot weather to make sure it won't be a burn hazard. In most instances this won't cause a problem.
How easy is it to install and use the Graco Extend2Fit convertible car seat?
Most parents found LATCH installation easy. The InRight LATCH system allows you to easily snap the straps onto the vehicle's anchors and releases with a push of a button.
Note that LATCH can only be used up to 45 pounds on this car seat. So, if you want to keep your child rear-facing past 45 pounds, you'll need to use the seat belt and tether.
There are a few things to take note of when you're using the seat in rear-facing and/or forward-facing mode:
To use the foot extender in rear-facing mode, you can scoot the base out, but there must be 80% of the base on the seat at all times. Luckily, there are blue and orange stickers on the base to indicate where that is.
In forward-facing, the crotch strap needs to be in the forward-most position, you can't use the leg extension, and you can't use the harness covers.
Seat belt installation rear-facing is where you might struggle. The belt path is smaller than it is in the forward-facing position, so threading it can be challenging. Once you have that done, tightening the harness could be challenging with the one-pull tightener. The chest clip is a little clunky too.
We highly recommend watching installation videos and checking in with a car seat technician, police station or fire department so they can confirm if your seat is secure.
---
Optional Accessories
The Extend2Fit includes everything you need to provide your baby with a safe and comfortable seat in the car. Parents can try some of these gadgets and accessories to make each ride a little more fun, comfortable, and easy.
Baby Car Mirror

This mirror comes with safety glass that won't shatter and hooks to the backseat headrest so you can keep an eye on a rear-facing baby from your rearview mirror. Baby will also enjoy looking at his/her reflection!

Carseat Seat Protector Cover

You'll want to put one of these under each of your installed child car seats to protect your vehicle seats from spills, crumbs, and indentations. These easy-to-clean covers work in all vehicles for both rear-facing and forward-facing car seats.
---
BestCarSeatHub's Final Verdict

Allows for extended rear-facing up to 50 pounds
Adjustable leg extension for 5 inches of extra leg room
Ball-level for accurate incline
Looks big but allows for front passenger leg room even in rear-facing
Easy LATCH install with push-on connectors
Buckle pockets to keep buckles out of the way when getting child in and out
Performed well in real-life crash scenarios
Machine-washable cover (air dry only)
Two removable integrated cup holders
6 recline positions and 10 headrest positions

Cover is difficult to remove and replace for cleaning
Seat-belt installation in rear-facing can be a challenge
Harness may be difficult to tighten
Too big for preemies and very small newborns
Can't use leg extension or harness covers in forward-facing
Chest clip is a bit clunky
Versions with easy-to-remove covers are a lot more expensive
---
If extended rear-facing (ERF) past 2 years old is important to you, the Graco Extend2Fit convertible car seat is definitely a good option. With a 50 pound rear-facing limit, and a leg extension that adds 5 inches of extra legroom, this seat pretty much blows away the competition for ERF.
It's also an affordable seat, so it's great for families on a budget and will last until your child is ready for a booster. For preemies or very small newborns under 7 – 8 pounds, you're better off going with a dedicated infant seat, as the Extend2Fit will not provide a snug fit.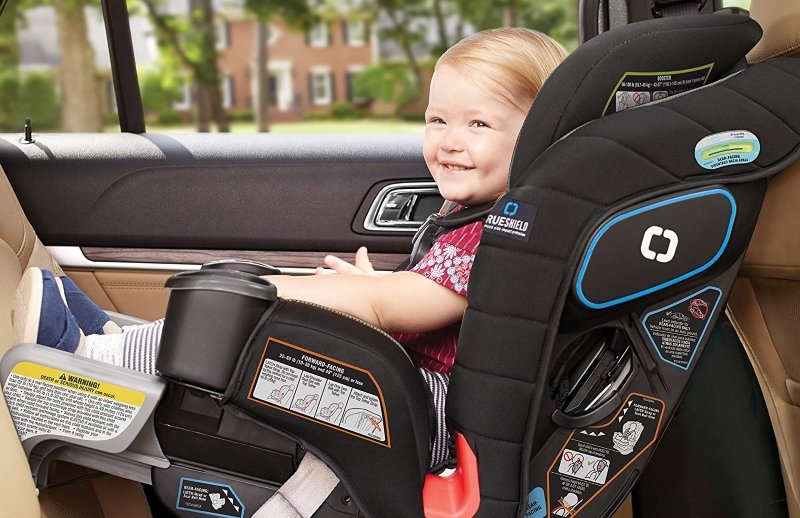 The Extend2Fit did very well in real-life crash scenarios and is sturdy enough that it should be very safe for your child. However, installation can be tricky, especially with a seatbelt install in rear-facing mode. The harness straps can also be tricky to tighten.
To ensure you're installing and using the seat correctly, we recommend getting a local car seat tech or fire department to inspect it. Also, watch installation videos so you'll know how to work with the various features unique to this seat.
It's unfortunate that the cover is difficult to remove and replace in this model and that the versions with easy-to-remove covers are so much more expensive. That's really the biggest downside to this seat and one that Graco could and should fix to save already-busy parents some time.
This post is also available in: Español (Spanish)