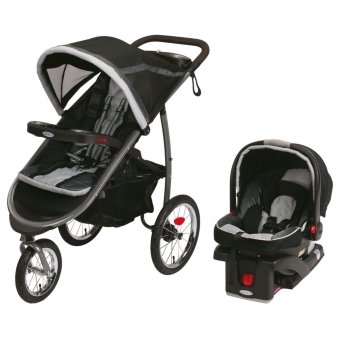 Graco™ is just one of those names that you see and you automatically trust when it comes to the care of your baby – right? It is one of those names that has been around forever you automatically know that what they put out is highly quality.

Of course, just because something is high quality doesn't necessarily mean that it is going to be the best fit for you and your family.

The Graco FastAction Fold Jogger is a specific type of system that not everyone needs and not everyone is going to love. However, for those that do need this type of system, it is a winner.
The FastAction is one of several products in a similar line, a baby jogger that is extremely easy to fold and move while on the go. The system is extremely easy to use, especially for one person, making it a go-to for parents who are always on the move.
As you read through this review, pay attention to some of the smallest details that Graco paid attention to when creating this stroller/jogger combination. As an all-terrain stroller, it surprised many people when it came onto the market – quickly becoming one of the top selling stroller combinations in stores and online. However, once you know the details, it really should shock you too much.
For active parents, there simply isn't anything better than the Graco FastAction Fold Jogger!
---
Overview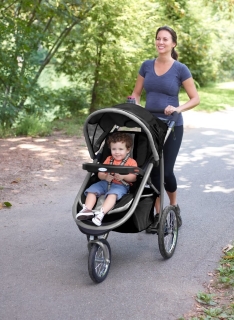 Design: The travel system combines a traditional stroller with a jogger – bringing in convenience, ease of use, and comfort.

Dimensions: 40" x 24" x 42"
Weight: ~30 pounds




Tires: Rubber tires with air provide smooth and comfortable ride for baby while helping with maneuverability for parents, especially at a jogging speed. Front wheel locks and unlocks per your needs.

Ease of Use: Foldable design allows parent to use a single hand to completely fold the stroller – allowing you to hold your baby. Fold is automatic.

Car Seat Compatible: Simply click the child car seat into the stroller with a single step. You will be able to audibly hear when the seat is properly connected.

Comfortable Seat: Stroller seat comes with added padding to ensure a smooth and quiet ride for baby.

Extras: Smartphone cradle keeps your phone at your hands and safe during a jog. Under-stroller storage ensures you have everything you need for longer jogs and hikes.
---
How Does It Move?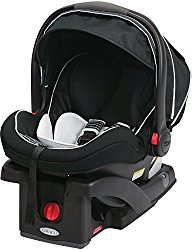 Of course, a jogger is only as good as the movement of the machine – and thankfully, the Graco FastAction Fold Jogger is certainly a great mover. Fit for children up to 50 pounds, it works with the existing Graco SnugRide Click Connect 35 or 35 LX.
Now, this is a self-contained jogger, meaning that it will stand by itself and won't tip over if your child so much as moves. This is, in part, due to the wide wheelbase. Coming in at two feet, not only does this help with stability, but it helps with maneuverability as well. It does though fill up the sidewalk.
The front tires are built on a swivel, taking in the turns and the bumps with ease. The 15" rear wheels provide most of the stability, keeping everything grounded, even with only one wheel on the ground. Of course, the unsung heroes are the tires themselves. Filled with air, there is an added bit of cushion that you don't always see in tires on today's strollers and joggers.
The air also acts as a natural suspension system, smoothing out the ride even more. Of course, this does leave the tires open to some sort of flat – however, a tire fix kit will do the job and they are made out of extremely thick rubber. A stone or a piece of glass won't do much damage to the tires at all.
Graco has truly thought of everything with these tires – there are even reflectors on the rear wheels for when you run at night, early in the morning, or just in low lighting.
Once you get moving, you are going to have to stop eventually. While this does take some time to get used to, the two-brake system means that you can control the stroller even more. You have to step twice to stop the stroller. This isn't so much of a problem, but if you have used other systems, it may take some time to get used to the adjustment.
Start with the Basics: The Seat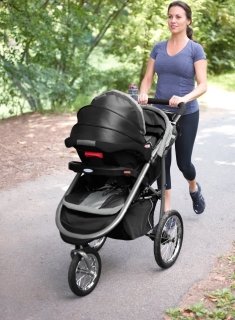 Once again: a stroller is only as good as it makes your baby feel. If your baby is uncomfortable, you are never going to be able to jog with him or her again. The seatback compares extremely well to other brands, falling within millimeters of some of the others. The seat itself is 13-inches wide, giving you plenty of room not only for baby to grow, but also for baby to be bundled when the weather turns colder. As your child grows older, there is space for a soft toy or two as well.
To help with the comfort of the ride, you can recline the seat easily and quickly, you can even adjust it while on the go. It's quite simple: push the seat and you can hear it click as you move it. There are two bars in the back that you can push to recline the seat even further.
The seat comes with an adjustable 5-point safety harness to start – simply put, your child will not move in this seat. Once your child is older and does desire more freedom, you can switch it over to a 3-point lap belt. Not only does this help the stroller age with your child, it also helps to give you options for this jogger and stroller. While you may want a little more control over the movements while you are using it as a jogger, when you are using the system as a stroller, you want to give your baby a bit more freedom.
The buckle is easy to work and secure enough that you truly won't have to worry about it breaking or your child undoing it by himself or herself. Side mesh panels allow for some air circulation throughout the seat.
Finally, as an included accessory with the seat, you get a snack tray. This is great when using it as a stroller – though you probably shouldn't use it when you are jogging, just to be safe. There are two cup holders (one for mom or dad's water and one for the baby) and small snack tray. You can remove the tray if you don't want it there or pivot it to use in some other way.
As for a few other details, like the canopy, you pretty much get the standard deal. The canopy itself is good enough, though there isn't anything great. Graco does offer a better one that you can purchase as an add-on to a car seat that may work with some hacks.
Is It Really Easy to Use?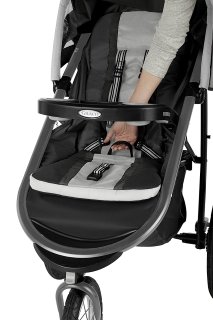 Yes – the Graco FastAction is extremely easy to use. The word "FastAction" doesn't just refer to mom or dad when using the system, it refers to the main feature of the system as well: the easily foldable seat. All you have to do is pull on the handle strap near the create of the seat and the stroller will do the rest of it. Once folded, there is a lock in place that will automatically hold the frame in place so that you don't have to worry about it expanding in the trunk of your car or in storage.
Even better, there is a kickstand so that you can move around with the FastAction folded. You won't have to put it on the ground. This also limits the amount of lifting that you have to do – while on the lighter side, 30 pounds is still heavy and heaving that into your car can take some strength. You can just slip it in without bending over.
Note that this combo can be a bit bulky. If you are going to store it for some time without using it, you can easily take off the three tires (just push the button and they come off) and the system will fold. Of course, how small the system really feels will relate to the type of car you have – an SUV will feel like it takes up less room than a sports car will, but you will be able to get it into both, which should tell you all you need to know.
The Little Details – The Most Important Features
In a world where there are so many joggers on the market, the FastAction Fold Jogger has really done quite a bit to set itself apart from the rest of them. There are quite a few perks that your baby might not appreciate, but you surely will when it comes time to actually use the system.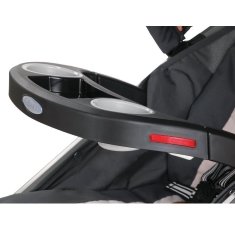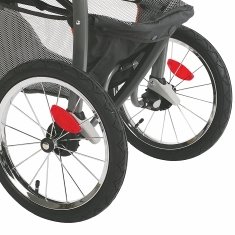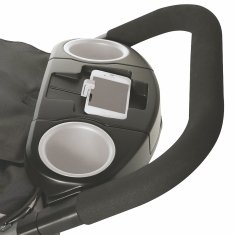 Storage baskets: When you are jogging, the last thing you want to do is lose something along the way. The storage basket is a good side and quite deep, meaning that you can move around and not have to worry. As long as you don't pile stones in the basket, it won't counterweight the seat and make it unstable. It will easily fit a diaper bag, a blanket, a sweater, and maybe a bottle of water or two.

Parent Console: We've already talked a bit about the snack tray, but just a reminder that there are TWO cup holders here. This is also the location where you can put your cell phone and you won't have to worry about it falling off. Note that it may not fit some of the larger models of phones, so you may have to look elsewhere if you own an iPhone Plus.

Handle: The handle is ergonomic and easy to use when you are pushing the seat. Now, the handle is a bit higher on this model, meaning that you may have to spend some time getting used to it. HOWEVER, this does force you to have better posture when using the seat, especially when jogging – which is always important.

Security: If you are a worrywart parent, there is a tether that is attached to the basket so that, if something does happen and you fall or lose grip on the stroller, the baby will not go far.
A Few Things to Consider
There are some things you may want to consider before purchasing the Graco FastAction Fold Jogger. These aren't things that will completely derail it, but there are some issues. The first is that the system can be a bit bulky and heavy, especially for parents who are of smaller statures. The other thing some parents note is that the front wheel can seemingly have a mind of its own at times and joggers have to pop a wheelie to get it back on course.
Let's Talk to Some Other Parents
Many reviews have come in from all over the internet for all parts of the Graco FastAction family. Most of them have received over 3.5 stars, with many people giving it a 5-star rating altogether. They have commented on the storage, safety, and maneuverability of the system.

The review with the most weight, however, likely goes to Consumer Reports, who gives the system an 80/100 rating with a "very good" mark for ease of use and an "excellent" mark when it comes to maneuverability.
---

Maneuvers Extremely Well
Parent Console
Under Basket Storage
Room to Grow
One-Hand Folding
Kickstand to Keep Up When Folded
Matches with Other Graco Accessories
Mesh Panels Allow Airflow

30 Pounds
Bulky with Wheels
Handle a Bit High
Canopy is Basic
Two Pump Brakes
Few Design Options