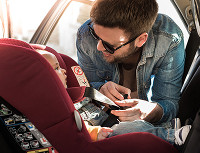 Buying an infant car seat is going to be one of the most nerve-wracking things that you do as a parent. This is going to be one of the only things that separate your child from a car weighing over a ton in the case of an accident – it is serious stuff.
What do you know about infant car seats? There are many different options out there, and you have to know about them all to make an informed decision.
So, let's break some things down, starting with the age-old question: what are the differences between an infant safety seat, a convertible car seat, and a 3-in-1 seat?
---
Infant Car Seats
Infant seats are specifically designed to keep infants (0 – 12 months of age) safe in the car. These seats typically go down to as little as 4 pounds for preemies and usually go up to 30 pounds.
Sometimes they will start at a higher weight, like 7 or 8 pounds or they will go to a higher weight of 35 or 40 pounds. Mostly, it doesn't matter, unless you have a preemie that is too small for the seat.
Infant car seats come in two parts: a base and an actual seat. The seat allows you to carry the baby from wherever you are in your car without having to wake them up and carry them. This ensures the most support.
Sometimes, you can get two bases so that you don't have to move from car to car. With a regular infant seat, you can buy the seat and, if you don't like it, know you only have it for a few months before you can upgrade.
Convertible Seats
Convertible car seats change into different setups – pretty standard. Most will change from a rear-facing seat to a forward-facing seat when your child gets a little older. They usually start at the lower end of the spectrum, 5 or 6 pounds, and work their way up to kids weighing as much as 100 pounds.
There are specific requirements for the weights on each mode of the seat. With a convertible seat, you can buy one seat and use it in many ways.
3-in-1 Seats
3-in-1 seats are exactly what they sound like – you can use them in three different ways. However, there is something that you need to know: traditionally, a rear facing seat is not one of those ways.
These seats will have two different forward-facing seats and then a booster option. The forward-facing seats will be for smaller children and then for one as they get bigger. Think of this as a guide for how your child should sit in the car.
Just remember that this is not the safest option for your child if he or she is not ready for a front facing seat just yet.
---
Infant Car Seat Buying Checklist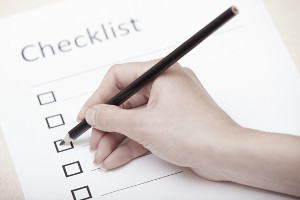 When you are purchasing a car seat, there are a few things you want to check off the list before you zero in on the best one to buy. Here are a few things to look for:
Ease of Use
Car Seat Base
Easy to Adjust
LATCH System
Comfortable
Easy to Clean
Side Impact
Now, this might seem like a simple list, but it can be incredibly challenging to find all of these items in one seat. Some of them go together. For instance, a car seat that is easy to use may also adjust easily. The ease of use may come across using the National Highway Transportation Safety Administration's rating system.
The more stars it has, the easier it is to install and use the seat. The easy adjustments show when you adjust the straps of the seat as your child grows. Make sure that there is a single hand belt with quick-release buckles and no-rethread harnesses.
Finally, easy cleaning speaks for itself – children as messy but cute, and you'd be surprised how difficult it can be to clean some seats. Look for one that is washable and comes with a cover for storage.
Next, you want to have a car seat base if possible. Sometimes parents will even buy a second one if they have another vehicle. Infant seats will snap into the base and then you can get on your way. This is better for infants because you can get your baby ready in the house and not expose them to the elements any longer than you have to.
Look for a base that has leverage and adjustable feet so that you can keep your baby comfortable the entire time. Speaking of comfort, make sure that there is plenty of padding and head support within the car seat.
For safety, the two most important things to check for are side impact protection and LATCH systems. Side-impact protection is energy absorbing foam that is designed to keep your baby's head and chest safe if you get into a side-impact accident.
The LATCH system is in all car seats and vehicles produced since 2002. LATCH allows you to put the car seat directly into your car instead of using the seat belt. This is an easier and safer way to attach the car to the car seat. You will likely use only the lower anchors. If you can, opt to get the rigid LATCH system – it is easier to use.
---
Tips for Buying an Infant Car Seat
When buying a car seat, there are a few things you need to remember – some of these are things you should already know, some come from experienced parents, and some tips come straight from the manufacturers of the seats:
Tip #1: If you don't have a lot of money to shop, consider choosing a travel system instead. While the entire unit may cost more money than a singular car seat, it is likely that you will save money when combining the car seat and the stroller.
Tip #2: Convertible car seats save money in the long run because they last you through toddlerhood. There are some drawbacks to convertible car seats, however, like the fact that you cannot take the car seat in and out of your car as you wish. Well, you can, but it will be incredibly cumbersome.
Tip #3: No matter what, try to find a car seat model that uses a 5-point harness system. This connects at the waist in two places, the shoulders, and a strap in between the legs.
Tip #4: Look for car seats that have side impact protection at the sides of the head. This means foam padding right near the temples.
Tip #5: The most important thing to test before buying a car seat is how easy the seat is to adjust. You want to have straps that don't move too easily, but also don't have to be rethreaded to adjust. Many brands can't walk this fine line too well.
Tip #6: If you want to get the best possible car seat with all of the features and accessories that you could ever want, you will likely have to spend over $200. At that point, you can search online for the best infant car seat, and you will have more selection – stores don't usually go that high.
Tip #7: Always keep your manufacturer's guide in your car. You never know when you'll run into a situation where you need it.
Tip #8: If you are having trouble, go to YouTube for tutorials on how to use the car seat. There will likely be videos for installing, adjusting, cleaning, converting, and anything else you need.
Tip #9: If you are still having problems, go to your local hospital or police station. Often, there will be someone there who can help you to make the adjustments so that you feel safe. If you are still pregnant, the hospital usually sends a nurse out to check your seat.
Tip #10: Almost every car seat is safe – even though you always want to know which one is the safest. Since all meet the current safety standards, the only thing you really need to pay attention to is that you aren't buying a secondhand car seat.
Buying a car seat doesn't have to be as stressful as it is. Remember these tips, keep your checklist in sight, and make sure to do ample amounts of research.