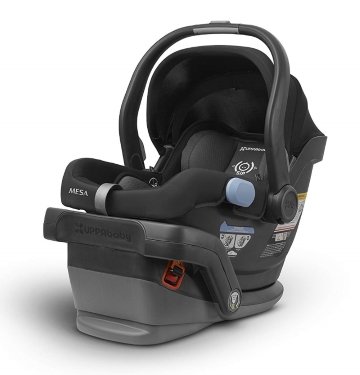 The UPPAbaby MESA is an infant car seat designed from a successful previous version. It's basically the same seat as before. The only changes are a couple of added colors and one discontinued color.
This sleek, stylish car seat has some nice innovative features designed to make installation as intuitive as possible to minimize human error. To us, that's a standout feature and one of the most important when it comes to choosing a car seat.
With the addition of naturally fire resistant materials that don't contain chemical flame retardants, this seat is an attractive choice for parents concerned about chemical exposure. Additionally, for urban families, this car seat may be one of the most friendly for taxis and Ubers than other seats on the market.
Is this seat worth the investment for your family? Let's break down the stats so you can decide for yourself.
Key Features of the UPPAbaby MESA Infant Car Seat

5 colors – blue, black, navy, and newly added red and charcoal (gray is discontinued)
No-rethread harness
Push-on, self-retracting LATCH connectors
SmartSecure system with a tightness indicator
4-position adjustable foot on seat base
Naturally flame-retardant merino wool fabric (blue & charcoal seats only)
Adjustable headrest
Infant insert
Compatible with VISTA and CRUZ strollers (2015 & later models)
SPF canopy
2-year warranty (if registered on UPPAbaby.com within 3 months of purchase, it's extended to 3 years)
The merino wool lined versions are the first and only seats (so far) to have passed federal safety standards without chemical flame-retardants. Just keep in mind that only the "Henry" (blue) and "Jordan" (charcoal) seats have the merino wool fabric for now. They are about $50 more expensive than the other colors.
While some customers have had no issues machine washing the fabric, UPPAbaby recommends handwashing and laying flat to dry.

Easy to install without base
Good for urban/traveling families
Level and tightening indicators on base
Self-ratcheting, retractable LATCH straps
Push-on connectors
Adjustable foot on base
Naturally flame-retardant material

Heavy
Expensive
Not all models have the natural fabric
Baby may grow out of it well before the size limit
May make baby sweat on their backs
Can be hard to get the right incline for baby's head
Front passengers may lose leg room
What are the child size limits of the UPPAbaby MESA?
The minimum weight range makes this seat a good choice for preemies. The included infant insert, wedge, and low harness position is recommended for babies 4 – 8 pounds.
Weight range: 4 – 35 pounds
Height limit: Up to 32 inches
Some parents with babies a few months old (around 20 pounds) felt the seat was too small. They found the straps were way too tight, which made it hard to buckle, even with the infant insert removed. So there's a chance your baby will grow out of it way before the 35 pound limit.
How big is the UPPAbaby MESA and will it fit in your vehicle?

Car seat weight: 9.9 pounds
Base weight: 9 pounds
Seat dimensions: 25.8" L x 17" W x 23" H
Base dimensions: 21.3" L x 14.5" W x 10.3" H
Car Seat on Base dimensions: 28" L x 17" W x 25" H
Some parents felt this car seat was really heavy, especially when using as a carrier. Others felt it was lightweight, so it'll depend on how much you're used to carrying, how far you carry it, how big your baby is, etc.
As far as fitting in vehicles, if you have a very small or compact car, be sure to measure the dimensions of your back seat and compare them to the dimensions above. While this isn't a super bulky seat, you may not be able to fit 3 seats across, and your front passenger may have to scoot up their seat and lose some leg room.
How safe is the UPPAbaby MESA infant car seat?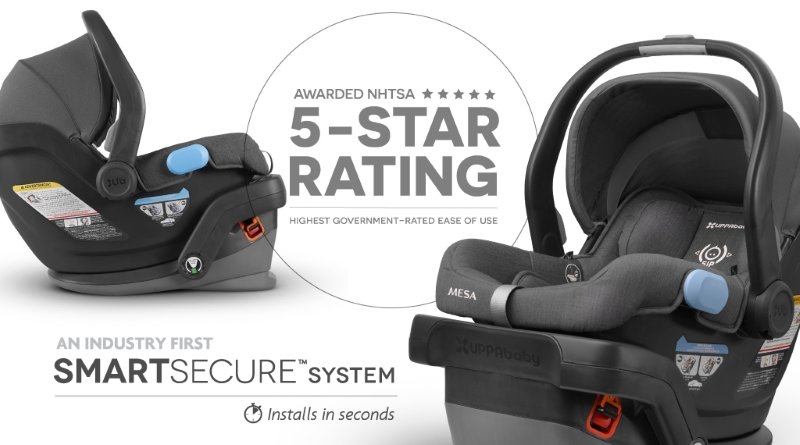 Most parents felt their babies were totally safe in this seat. It exceeds all Federal crash testing guidelines. There are no known current recalls on any UPPAbaby car seats.
One mother recounted her experience of being in a horrible car accident with her baby, who was in a MESA in the middle back seat. The mother was severely injured but, the baby was totally fine, with only a tiny bruise from the buckle holding her in.
This seat has safety features such as LATCH straps and side-impact protection foam. These are pretty standard features in car seats. In the MESA, we feel the installation features are actually what contribute most to this seat's safety. We'll dive into those in the next section.
A few parents found quality control issues such as broken parts, torn fabric, and a flimsy canopy. So you should inspect all parts as soon as you receive the seat. The quicker you can contact customer service, the better, as they seem to be somewhat unresponsive at times.
Possible design flaws:

Some parents noted there is a warning sticker sewn into the fabric that sits behind baby's back. Though the rest of the material is breathable, this part is not, so their babies got really sweaty on their backs.

Also, some parents said their babies' heads slumped over, even when they adjusted everything to where it looked level. As we've seen in some other seats, your back seat design / incline could contribute to some of this. So it would be wise to ensure your car is compatible with this seat by calling UPPAbaby before buying.
How easy is the UPPAbaby MESA to install and use?
This is where the MESA truly shines. All installation features are designed to minimize user error. Improperly installed car seats are all too common, especially if the process isn't user friendly or requires a great deal of strength.
Many parents raved about how easy it is to install, especially without the base. Color-coded seat belt guides on the sides of the car seat make it really easy to slip the vehicle belt through when you're in a hurry. This makes it idea for urban families who need to use public transport often or those who travel a lot and need to use taxis, planes, etc.
First you have the self-ratcheting LATCH connectors that retract back into the base when not in use. They're push-on connectors with a push-button release and an audible click so you know they're connected to the anchors.
When you have attached the base, you simply push down on it, which makes the straps ratchet so they get tighter. There's an indicator that turns from red to green to let you know when it's tight enough.
Tip: The fit may loosen a bit after a long or bumpy ride, so double check that the indicator is still green before each trip and push the base down to tighten if needed.
There's also an adjustable foot with a level indicator on the base to ensure the proper incline.
Seat belt installation with the base isn't quite as easy as with the LATCH, but no harder than other seats. There's a seat belt lockoff in the base. It can be tricky when you're lining up both lap and shoulder belts into the one lockoff.
As far as buckles go, they're pretty average. The main buckle can be a little stiff, but overall the straps are easy to tighten and loosen. The release handle works fine to disengage the carrier. The carrier handle is comfortable, though it does rub on the canopy a bit when both are up.
Optional accessories
Try these accessories to make the most of your MESA:

UPPAbaby MESA travel bag
This luggage-grade carry bag is durable with several handles so you can transport your car seat with ease while keeping it safe from spills, dust and tears. Holds both car seat and carrier.

UPPAbaby cabana infant car seat shade
Blocks 80% of the sun's rays and fits over most infant seats. There's a fold-out wind and rain layer to protect baby from the elements. It comes with its own travel bag for easy transport.
BestCarSeatHub's final verdict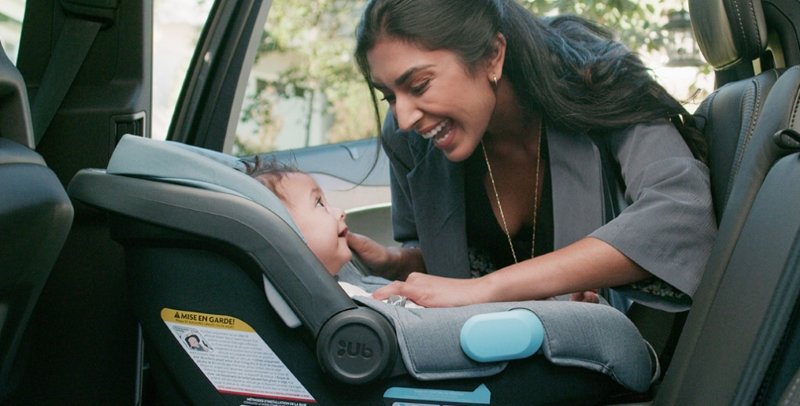 As far as installation goes, it'll be hard to beat this seat, especially if you do a lot of traveling in either planes or public transport. Installation without the base is about as simple as it can get, making it perfect for a busy urban family.
The naturally flame-retardant material (only in blue and charcoal) is also a plus for parents concerned with exposure to chemicals. It's also a good choice for preemies and newborns, providing a snug enough fit for those smaller babies.
Other than that, the UPPAbaby doesn't really stand out that much from the crowd. While the price isn't exorbitant, it could deter those who aren't interested in the above perks.
If your family doesn't use a lot of public transport and you aren't concerned about flame retardants, we'd recommend watching for sales and free shipping deals or simply look for another brand.