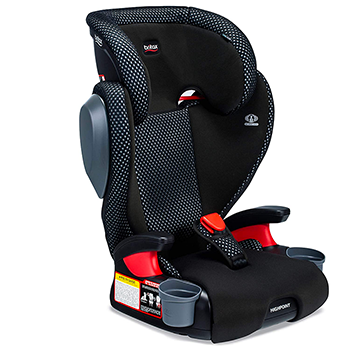 Keeping your child comfortable in a booster seat is often difficult. Even though they meet all the height and weight requirements, it can be tricky figuring out which seat is the best fit for them. Plus, booster seats are often rigid with limited padding and support.
Britax was mindful of all those concerns when designing the Highpoint booster seat. This booster starts with a solid set of safety features, but then adds on a number of comfort features and conveniences. It also is a high back booster seat that converts into a backless booster seat when your child is ready, so kids can use this one booster all the way until they are seatbelt ready.
Key Features of Britax Highpoint 2-Stage Belt-Positioning Booster
SecureGuard Clip (Lap Belt Guide)
Three Layers of Side-Impact Protection
Shoulder Belt-Positioning Clip
10-Position Quick Adjust Headrest
Lower LATCH Connectors
Color-Coded Belt Guides
Removable and Dishwasher Safe Cup Holders
Removable and Washable Cover
Weight Limit Range of 40-120 pounds
Height Limit Range of 44 to 63 inches
The Britax Highpoint 2-Stage Belt-Positioning Booster is one of our highest rated booster seats. It converts from a high-back to a backless booster and can be safely used by children weighing from 40-120 pounds. The width of the seat is 16 inches, and the height is 27.5 inches.
When is my child ready for a booster seat?
Years before your child is ready for a seat belt, it is important for parents to carefully decide if they are ready for a booster seat. The age that children are legally allowed to be in a booster seat can vary by state, but the average age is around four years old and at least 40 pounds.
However, it is strongly recommended that you wait until your child outgrows their five-point harness seat before moving them to a booster. Ultimately, the harness seat is the safest option for young children as it provides the most protection.
Another important factor that parents need to take into consideration is the maturity level of their child. If your child has a tendency to wiggle around a lot in the backseat or get out of their seatbelt, then it is better suited for them to continue to be in a harness. Riding safely in a booster requires your child's cooperation, so without that the five-point harness is a safer option.
What makes the Britax Highpoint Unique?
Britax has a popular, market leading product with the Highpoint booster seat. It has a strong overall commitment to comfort and safety, with a few key attributes that help it stand out.
Lap Belt Guidance:
All high back boosters come with a shoulder belt path guide to ensure that your child has their seatbelt in the correct positioning in that area. However, the Britax Highpoint booster goes the extra step and includes a lap belt guide. This SecureGuard Clip places the seatbelt in the proper position across your child's hips and keeps it off their stomach.
Lower Connectors:
Most boosters sit on the seat independently and do not require any form of installation. At times, this can be problematic due to the seat sliding around. The Britax Highpoint has anchors to hold the seat in place and they attach just as LATCH does in a typical car seat.
Adjustable Headrest:
The Britax Highpoint headrest easily adjusts to ten unique positions. It is great for high back boosters to have an adjustable headrest because it keeps the child more comfortable and ensures the shoulder belt is properly positioned.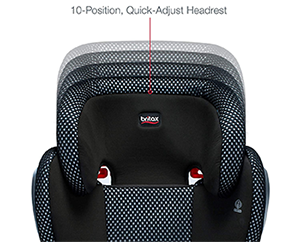 How comfortable is the Britax Highpoint 2-Stage Belt-Positioning Booster?
Many parents commend this booster because of its soft fabrics and padding that allows their children to ride in it comfortably on long road trips. Since the headrest is adjustable, it is easy for kids to have a proper fit that supports them. Additionally, the side impact protection allows a plush space for your children to rest during their commute.
Kids sweat a lot and they often want to get out of a backless booster seat because of how hot it makes them. Fabric on the Highpoint is ventilated mesh to allow for better air circulation up and around your child's back and neck. The mesh fabric does not hold heat the same way as other seats do, resulting in a cooler ride.
Underneath the mesh fabric is plush foam padding. This booster does a good job adding padding to the seat and backrest so that kids can lean into the seat and not feel like they are floating on top of it. The headrest and side impact protection envelop the child and give them comfortable edges to lean upon.
How Safe is the Britax Highpoint 2-Stage Belt-Positioning Booster?
The Britax Highpoint 2-Stage Belt-Positioning Booster passes all necessary safety tests required by the United States and Canada. As a company, Britax has won various awards for their safety and is a market leader at introducing innovative new safety features. The extra safety features might alleviate concerns some parents have transitioning from a five point harness to a booster.
Lots of parents choose the Highpoint because of the safety features like side impact protection and lower anchor connectors (LATCH). The booster also has an energy absorbing shell and a foam lined headrest to help shield children from the force of impact in the unfortunate event of a collision.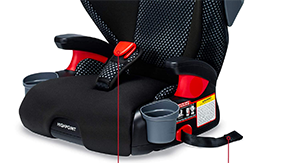 One newer safety feature that the Highpoint has is the SecureGuard belt position clip. This clip keeps the lap belt in place on your child's hips and stops it from creeping up higher onto their more fragile stomach or abdomen areas. The clip adds a step to buckling and unbuckling but provides good protection.
How does the Britax Highpoint 2-Stage Belt-Positioning Booster Compare In Size To Other Britax Seats?
With a commitment to keeping big kids comfortable and a slew of safety features it would be fair to think that this is an oversized booster, but in fact it measures similarly to other seats in the Britax lineup. Parents find that this booster seat is a good option for going three-across the back seat even though it does have armrests out on the edges.
Product Weight
Britax Highpoint 12 lbs / 5.4 g
Britax Skyline 11 lbs / 5 g
Britax Midpoint 12 lbs / 5.4 g
Product Dimensions
Britax Highpoint 16 x 19.5 x 27.5 (in) / 40 x 49.5 x 55 (cm)
Britax Skyline 16 x 19.5 x 27.5 (in) / 40 x 49.5 x 55 (cm)
Britax Midpoint 16 x 20.5 x 27.5 (in) / 40 x 52 x 55 (cm)
Weight Limits
Britax Highpoint 40-120 lbs / 18-55 kg
Britax Skyline 40-120 lbs / 18-55 kg
Britax Midpoint 40-120 lbs / 18-55 kg
There are very minor differences in dimensions and weight restrictions between the three Britax highback booster models. Note that although two of them can convert from high back to backless boosters, one of them does not have this capability.
Additional Britax Booster Seats:
Britax Skyline Backless Booster:
The Skyline does not come with a lap belt guide, and only has two layers of side impact protection. However, it does have the same weight and height restrictions as the Highpoint.
Britax Midpoint Booster:
This booster only has two layers of side impact protection and cannot be used as a backless booster. However, it does have a lap belt guide and similar height and weight constraints.
Do Parents and Families Like the Highpoint Booster Seat?
The Britax Highpoint 2-Stage Belt-Positioning Booster has many solid features that parents rave about. Overall the seat has a lot of satisfied customers who use it for years as their children grow and then also as a hand-me-down. However, there are a few unsatisfied customers and primarily that is from buyers who felt that the colors were a few shades off the descriptions. Although the stock photos show the seat as specific colors, they do seem to arrive occasionally with slightly different shades than what was depicted in the photos.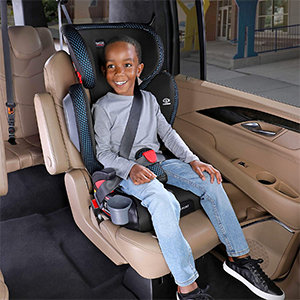 Optional Accessories:
Even though this is a very fully featured booster seat with a plethora of safety and comfort features, there are still some accompaniments that parents can choose to bring along to make for an easier ride. These are some of our favorite accessories to pair with the Highpoint.
Britax View-N-Go Backseat Car Organizer
Having a central location for all of your children's "stuff" gets a lot easier with this backseat organizer. It has a specific area for their tablet and other pouches for toys, so they can keep themselves entertained the entire road trip.
Car Seat Travel Bag
Booster seats are typically not aircraft certified and cannot be used on the plane. Therefore, they need to be carried to the gate or checked onto the plane as luggage. This bag allows your seat to be safe underneath the plane by keeping it covered and free from dirt and grime.
Britax Kick Mat Seat Protectors
Kids love to kick the back of the driver and passenger seats since they are in such close proximity to their feet. These seat protectors sit on the back of your driver or passenger seats and provide a barrier between your child and the fabric.
BestCarSeatHub's Final Verdict

Three Layers of Side Impact Protection
Lightweight
10-Position Adjustable Headrest
Lap Belt Path
LATCH installation
Color Coded Belt Guides
Washable Seat Cover
Multiple Award Wins
Multiple Safety Tests

Colors Are Not Accurate
Difficult For Children To Buckle Themselves
Final Thoughts
The Britax Highpoint 2-Stage Belt-Positioning Booster comes from a well-known baby brand that is well recognized for their safety standards. Many parents turn to Britax for all of their children's seats from infancy to school age. Counting on them to provide a safe and comfortable booster seat makes a lot of sense.
The premium features that come with the Britax Highpoint make it a top contender, and it satisfies both parents and their children with its good balance of comfort and safety. As an added safety feature, the SecureGuard lap belt guide is great for making sure that the belt positioning stays in the appropriate spot on young children. This booster is a solid choice for parents and families that want a bit of extra safety, security, and comfort in their booster seat.