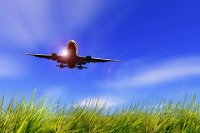 Traveling with a baby is not always the best thing you'll do, but it is something that we need to do. With so many people who want to see your baby, flying is always a possibility.
So how can you keep your child safe when you are in a plane? The best approach is to take an approved car seat or booster seat along with you. Most airlines won't provide you with a proper seat.
Those who work in the air force agency warn that air turbulence is a dangerous addition to the already dangerous process of flying with a baby. If you want to make your baby the safest he or she could possibly be, try to find an FAA approved car seat that uses a harness. If you use one car seat while you are driving, you should use that same car seat in the plane because you know how it works. Many airlines will allow you to board first to install the seat.
Not all car seats will fit onto a standard airplane seat as they will be too wide. If you aren't sure if your car seat will fit, pull out your tape measurer. A standard plane seat will be 16" wide. Still, you should aim to purchase a car seat that is FAA approved, if possible.
Don't throw away your child's safety for convenience.
You are going to need to bring your child to the airport in a car seat anyway, so you can just unbuckle it and move along on your way. The seats that are provided at the airport might not be up to the standards that you have for your child's safety.
Children who have outgrown car seats may be able to sit directly on the lap of a parent with the lap belt buckled across their thighs or hips.