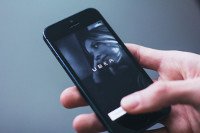 Uber has long been trying to add features that will give riders a sense of security when they are in the car with drivers that they don't know. Uber is now offering a feature called "Uber Family" which will offer NYC residents the option of getting a vehicle with a car seat in it.
The car seats are all front-facing, meaning that they are for older children. If you want to use the service, your child must meet the following requirements:
Child must be at least 12-months old
Child must weigh at least 22 pounds
Child must be at least 31" tall
The problem stems from the fact that children aren't as safe when they ride in taxis. Parents usually hold children that are small instead of properly fitting them into the seat. Some parents will bring the carrier of a seat, but it is very rare to see a parent properly install a base.
Some parents will try to put a child in their laps, though cab drivers are not supposed to allow that to happen. It is important to note that there are special seats for individual age groups, but any seat is better than none.
As of right now, the service is only offered in Washington D.C., New York City, and Philadelphia. There are hopes that it will extend to other major cities and eventually there will be a widespread functionality in the app.