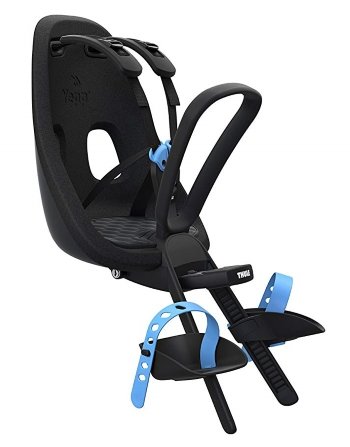 For children 9 months to 3 years old, the Thule Yepp Nexxt Mini secures them in a 5-point harness at the front of the bike. Plus it has a handlebar and footrests for added stability over varying terrain. The harness and footrests are both adjustable to accommodate your growing child.
The non-porous foam seat is easy to clean while remaining soft enough for comfort. If you'll be enjoying a long, leisurely ride, there's even a separate face pad you can buy to put on the handlebar so she can take a nap and rest her head.
But is this bike seat worth the investment? It's not cheap, so you'll have to consider your budget and how much use you'll get out of it. Let's break down the details so you can make an informed decision.
Key Features of the Thule Yepp Nexxt Mini child bike seat
Adjustable, 5-point padded harness
Childproof magnetic safety buckle
Quick-release universal bracket
Lightweight
Adjustable foot rests and straps
Handlebar
Water-repellent
5-year warranty
What are the child size limits of the Thule Yepp Nexxt Mini?

This seat is designed and tested for kids 9 months to 3 years of age with a max weight of 33 pounds. The adjustable harness and footrests accommodate their growth.
One downside is that there is only one shoulder strap height, which can make the fit a little snug for bigger kids.
Alternate versions:

Thule Yepp Mini – The "original" version. It's about 4 pounds heavier with no threadless adapter. It's about $20 cheaper and has better ventilation. Fits kids 9 months-3 years (33 pound max).
Thule Ridealong Mini – Backpack-style shoulder straps, 2 shoulder height settings, about $10 cheaper, but lacking in ventilation. Fits kids 9 months-3 years (33 pound max).
The Yepp Nexxt Maxi – About $40 more than the Nexxt Mini and sits on the rear of the bike. It fits kids from 9 months to 6 years (48 pound max).
How big is the Thule Yepp Nexxt Mini and will it fit on your bike?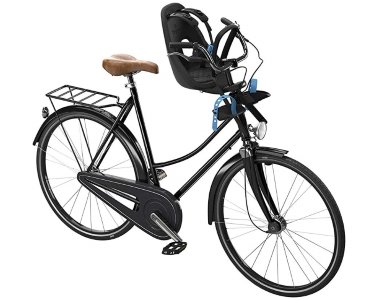 With the universal quick-release bracket, this seat works well on most bikes but not all. For instance, Thule doesn't recommend this seat for carbon frame bikes. The universal adapter won't fit all threadless headsets.
In general, this seat is compatible with stem tubes that are 20-28 mm in diameter. There should be at least .83 inches of space in the stem quill between the stem and locknut.
In some bikes it may be necessary to raise the bike handlebars for enough clearance. Depending on bike design, taller riders may have to splay their knees out a bit to avoid rubbing against the child seat. For those who need to lean forward or for large-chested women, the seat may rub against your chest. Some parents weren't able to straddle the bike frame when putting their feet down to stop because the child seat was in the way.
Here is a list of known bikes that are compatible with this seat:
Trek Lexa 2
Zesty TR 429 Ei
Chelsea 8
Electra Loft 7D
2003 Fuji Finest
Electra Cruiser Lux 7D
We recommend that you do some research on the Thule website, look up your bike specs, and contact their customer service to see if this seat will work with your bike. If you can find one locally in a store or from a friend, see if you can try it out first.
How safe is the Thule Yepp Nexxt Mini child bike seat?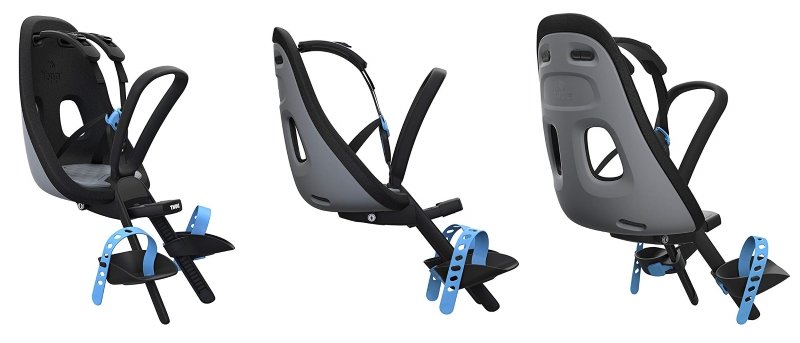 The seat, when installed correctly, holds very securely to your bike. Parents noted how secure they felt the straps were. The magnetic buckle is childproof. There are straps in the footrests so you don't have to worry about their feet getting in the way of moving parts. Parents liked having their child right there in front where they could keep a better eye on them during the ride.
The mounting bracket that attaches to the handlebar stem is very sturdy and will only come off with the included keys. The seat back is short enough to not interfere with your child's helmet. Two large holes in the back provide good ventilation.
NOTE: Both you AND your child should wear bike helmets for every ride!
However, some riders with a narrower threaded bike stem had to tighten the bolts really hard in order for the bracket to stay in place. Otherwise, it might shift side to side, so be aware of that.
Though the minimum age for kids to ride in this seat is 9 months old, some states have laws that prohibit kids from riding in bike seats until 1 year of age. Many pediatricians advise to wait until your child is 1 year old as well.
Some riders felt the seat got in the way of steering on mountain bikes. The footrest broke for a few people when they turned the handlebars too far. Others said the shoulder straps fell off their child's shoulders too easily, especially on smaller children.
Tip: Buy a separate car seat chest clip for extra security on the shoulder straps.
How easy is it to install & use the Thule Yepp Nexxt Mini?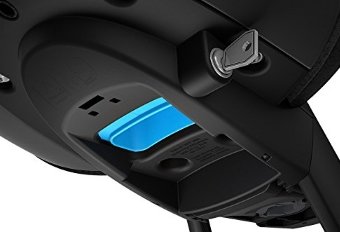 Customers generally have found installation to be easy when their bikes are totally compatible with the seat bracket. For others, getting the bracket to fit right was a challenge. Bikes with "ahead stems" can be more difficult.
Some riders needed to move some of the spacers or raise the handlebar on the bike to get a more secure fit. For some bikes, it may be necessary to get a "slim fit" adapter.
On a good note, riders liked how easy it is to remove the seat with the quick-release lever on the bracket for more compact storage of their bikes or for solo rides.
As we said earlier, it's best to find out if your bike is compatible before buying.
Thule has a good video that shows basic installation and use:
BestCarSeatHub's Final Verdict
Overall, the Thule Yepp Nexxt Mini is a good quality child bike seat for most biking families. However, we recommend doing some research to find out if your bike is compatible before buying. Due to some impedance issues in steering, we don't recommend this seat for heavy-duty mountain biking, but it's definitely a good choice for everyday around the neighborhood trips.

Comfortable
Childproof magnetic buckle
Adjustable straps and footrests
Easy to attach/remove the seat
Handlebar for kids to rest their hands
Doesn't get in the way
Allows parents to see kids at all times

Doesn't fit every kind of bike
Tall riders' knees may rub against seat
Shoulder straps may fit too loosely on very small kids
Foot rests may get in the way of steering on some bikes
Mounting bracket may feel too loose on some bikes
May not allow riders to stand while straddling the bike frame
Only one shoulder height position for harness
Expensive
Optional accessories
Try these add-ons for a comfier ride for you and your baby.

Thule Yepp Mini Handlebar Padding
Shock-absorbent, dirt and water repellent. Attaches easily to the child seat handlebar for your little one to rest their sleepy head.

Thule Yepp Nexxt Mini Adapter Slim fit
Compatible with most normal and ahead stems. Good "extra" for families with multiple bikes/kids.